Two of the four accused employees.
Another day, another allegation of financial misconduct at the St. Louis city department in charge of overseeing public dollars. This treasurer's office controversy involves four employees who schemed -- with not a whole lot of success -- to steal public dollars from city-owned parking lots, prosecutors say.
These latest charges come less than a month after a former employee of the treasurer's office was convicted of multiple fraud charges, including siphoning off public dollars and filling out false time sheets.
These new theft allegations came to light when Tishaura Jones, who became St. Louis treasurer in January, noticed something wasn't adding up.
The St. Louis Circuit Attorney's Office announced over the weekend that Charles Roberson, Princeton White, Blake Noise and William Draper have all been charged with counts of stealing over $500. Roberson and Draper face two counts each, Noise faces six and White faces seven.
The four were employed as parking lot attendants for the treasurer's office and were assigned to two lots at Clark Street and 16th Street in downtown, according to probable cause statements, on view below. Their job was simple: Give out parking passes and collect twenty dollars in return.
via kmov.com
St. Louis Treasurer Tishaura Jones.
And at the end of their shift, they were supposed to turn in all of the money to the treasurer's office, but prosecutors say that while they always took money from the drivers, they did not consistently give out passes.
This practice was caught on surveillance video, the circuit attorney's office says. And when their shifts were over, they did not turn over all the money -- but instead pocketed some of the cash.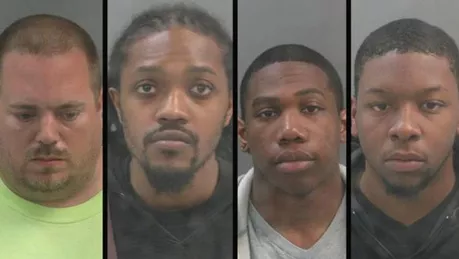 They each allegedly stole over $500. Roberson and White admitted they took the money, prosecutors say. Draper, however, "denied ever allowing cars to park without a pass and said he always followed office procedures," the statement says. It's unclear if the fourth suspect admitted guilt.
Continue for the full charges and commentary from Tishaura Jones.
Jones recently tweeted out a
KMOV
story on their arrests and Mayor Francis Slay congratulated her on successfully tracking them down.
Jones told KMOV that she noticed something was not adding up in terms of the number of cars passing through the lots and the corresponding funds they were collecting.
Was this happening "well before" she got into office?
"We think so," she said.
Yikes.
The suspects do not yet have attorneys listed in official court files.
Here are the full probable cause statements.
Send feedback and tips to the author. Follow Sam Levin on Twitter at @SamTLevin.