Chris Reimer
Who says downtown St. Louis doesn't get much foot traffic?
Spied this morning in downtown St. Louis: a wild turkey. And no, we're not talking about an empty bottle of bourbon. That sight is commonplace. We're talking today about a genuine meleagris gallopavo.
Chris Reimer (perhaps better known for his Twitter handle @rizzotees) e-mailed Daily RFT the following photos he snapped near the St. Louis Language Immersion School at 19th and Pine streets. Says Reimer:
"I was there dropping my kids off at school. This guy says to me, 'Excuse me, sir?' I said, 'What's up?' He pointed down the street and said, 'TURKEY!' I was like wtf is this guy talking about? I peered around the corner and saw a turkey walking down the sidewalk. I told my kids, 'Oh, I gotta get a picture of this!'"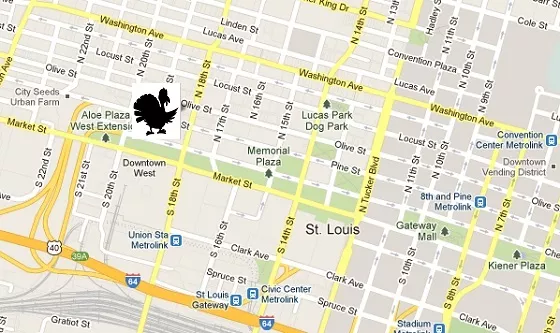 Approximate location of bird sighting highlighted above.
Continue on for more images of the bird as it crossed Olive Boulevard and disappeared headed north.