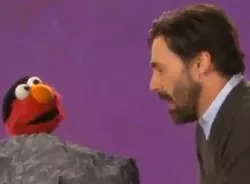 Here's one television set where we really hope Jon Hamm's penis is not causing any problems.
Sesame Street!
That's right. Our favorite St. Louis celebrity Jon Hamm (who in recent weeks has struggled greatly with big-penis-causing-trouble headlines) is taking a break from Mad Men to chat with Elmo about the word of the day: sculpture.
Check out the clip below.
Don Draper and Elmo together at last.
The show airs today.
(h/t to the St. Louis "Jon Hamm news desk").
See also: - Jon Hamm is Sick of Everyone Talking About His Huge Penis (Sorry, Jon!) - How Can You Possibly Live Without a Jon Hamm Coloring Book? - Mad Men: Top Twelve Nicknames for Jon Hamm's Dong
Send feedback and tips to the author. Follow Sam Levin on Twitter at @SamTLevin.