Barack Obama's reelection campaign may seem like a pretty distant memory at this point, but the group that ran his ground game across the country has morphed into a grassroots organization that is now ramping up its actions in Missouri.
That nonprofit is called Organizing for Action, the latest incarnation of what was formerly the Obama campaign's Organizing for America effort, and the Missouri state chapter has become increasingly active in recent weeks, concentrated in St. Louis and Kansas City.
"The main objective is to pressure legislators to let them know what their constituents really feel," says Alex Sims, Missouri state leader for OFA, tells Daily RFT. "It's real people and real issues."
The group is not directly affiliated with the president -- but the mission is to support White House initiatives on the ground with campaign-style rallies. What's the Missouri chapter working on?
See also: - Barack Obama Interrupts Francis Slay's Workout to Congratulate Him on Historic Win - Michelle Obama Headed to Springfield Walmart For Anti-Obesity Campaign - At Kirkwood Parade, "Women for Mitt" Banner Carried by Two Dudes
The group, which is made up of volunteers on the ground in Missouri at this point, has held a number of rallies on issues including gun violence, immigration and sequestration.
"It's incredibly powerful to be a part of a group of people that are so passionate and so hard-working and are really taking control of their own destiny," Sims says.
Courtesy of Sims
Organizing for Action Missouri at a recent immigration rally.
Sims was formerly the St. Louis regional field director for the Obama campaign and is now taking on the lead coordinating the new Organizing for Action efforts in Missouri.
Nationally, it's unprecedented for a sitting president to have his campaign group relaunch itself as a separate nonprofit -- dedicated to his policy efforts.
It means that across the country, organizers, who often worked and volunteered directly with the official campaign, are staging rallies and demonstrations on their own designed to drum up support for federal policy.
In Missouri, that's come in the forms of gun control efforts as well as a recent initiative to to highlight immigration reform.
OFA-MO brought out immigrants in St. Louis to a recent city event where they spoke out urging Congress to pass comprehensive reforms.
"It's really the perfect time to act on immigration reform and we wanted to make sure we told our Missouri legislators where we stood," Sims says.
"The system is broken and this is an opportunity to fix it," she says. "We are a country of immigrants."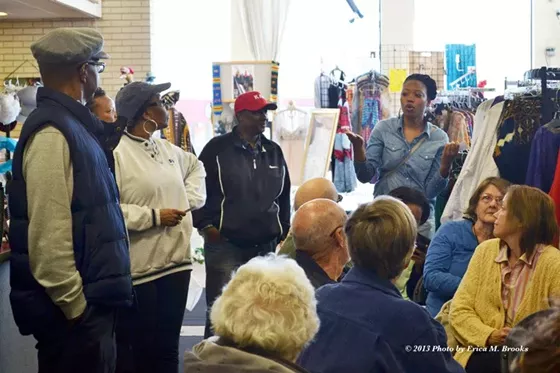 Courtesy of Sim
Gun violence rally in Kansas City.
Last weekend, the group held a rally in Kansas City billed as a gun violence vigil. The event was labeled "We Have Not Forgotten and Demand Action" and focused on efforts nationally to institute universal background checks.
It's still early in the process as the grassroots group works through the transition to Organizing for Action.
"We are learning how to be an issue-based campaign," Sims says.
Send feedback and tips to the author. Follow Sam Levin on Twitter at @SamTLevin.