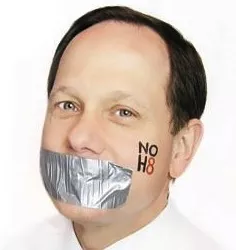 It is officially official. After beating his challenger Lewis Reed in the March primary, winning against no one on the April 2 Election Day and going through his formal inauguration ceremony yesterday, Mayor Francis Slay has begun his fourth term -- making him the first mayor in St. Louis history to achieve this long of a run.
What's he going to do with four more years? (And maybe four more!)
One of his promises that caught our attention was his statement of a commitment to LGBT issues in St. Louis. How?
As part of his "sustainability" campaign theme, in the final weeks of the race, Slay emphasized his aim for inclusivity and outreach to the LGBT community.
via Twitter
Inauguration yesterday.
This idea emerged again in his inaugural speech yesterday. From a written version of his address:
I plan to see St. Louis as a global competitor, as an international trade hub, as an incubator of new companies; as a place of culture and the arts; as a magnet for immigrants, for entrepreneurs, for animal lovers, and for gays; as a city of parks and trails; and as the sort of place that figures in young people's dreams.

For too long, we have been anything but. For too long, our community has let itself be paralyzed by the tyranny of haters.
Daily RFT got a chance to briefly ask Slay about his priorities related to LGBT St. Louisans on election night.
While he didn't have many specifics, he referenced his so-called "five-year plan," which, in a section on equality and diversity, lists a goal to "maintain our premier Municipal Equality Index rating for LGBTQ." (St. Louis scored very well in a LGBT-friendly national ranking last year).
"We want to make sure that we maintain our very good standing in terms of LGBT issues in St. Louis," he said. "We got 100 points from the [Human Rights Campaign] and we're hoping to maintain that."
He continued, "We are going to work on continuing to make our city a city that embraces diversity and that includes our wonderful, very, very, valued LGBT community here in St. Louis that are contributing greatly to our culture, contributing greatly to our diversity, contributing greatly to the quality of our city."
We also asked Slay about the increasing number of elected officials locally and across the country coming out in favor of same-sex marriage.
Continue for more of our interview with Mayor Slay and for the full text of his speech.
Slay pointed out that he's one of the original mayors on a national coalition in favor of marriage equality.
"This is about making our community, our city, our state a more welcoming state to more people," said Slay, who has advocated for civil unions in the past. "Until we get beyond that issue, this state will not be a more welcoming state."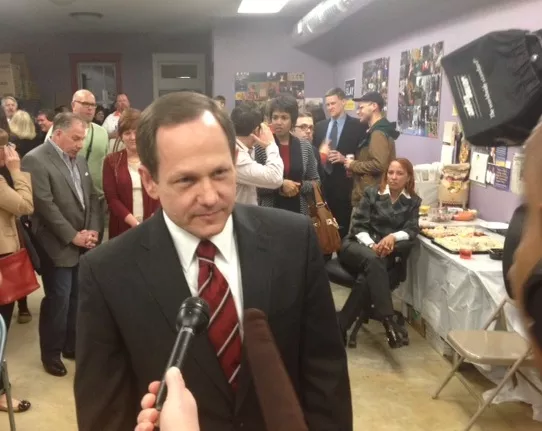 Sam Levin
Mayor Francis Slay on election night.
Is he disappointed that Governor Jay Nixon, a Democrat, has yet to endorse marriage equality?
Slay chose his words carefully.
"Certainly, I'd like to see everyone embrace it, and I'm disappointed with anyone that doesn't do it, so...I certainly would like to see the state jump on board," he replied.
He points out that Missouri has a constitutional amendment -- which a majority of voters in the city of St. Louis did not support -- banning gay marriage here.
"I'd like to see the courts take all these things on and really do something to let everyone know, regardless of sexual orientation, we value them, and they're an important part of our community," he said. "It's about treating everyone equally and fairly."
Here's the full text of his speech he posted on his website yesterday.
Congressman Clay, Comptroller Green, members of the St. Louis Board of Aldermen, other elected officials, city employees, honored guests, members of the clergy, ladies and gentlemen.

Good afternoon.

I am the forty-fifth person to deliver a mayor's inaugural address from these City Hall steps or from steps just like them. It is an honor to do so.

Little record is kept of the Inauguration speeches of mayors, so I feel free to claim that this particular one will make history ... as one of the shortest.

I approach this new term with hope - and with a sense of great urgency.

Because of your hard work, I'll begin my fourth term this afternoon with a city of many strengths on which to build and with many assets to be leveraged.

We are a city that has become healthier, cleaner, more open to diversity, better educated, more urban, and more fun than at any time in decades.

We have a great philanthropic community, mighty medical centers, strong neighborhoods, engaged business leaders, thoughtful universities, emerging technologies, a growing number of quality educational choices, and a nearly unmatched building stock.

We have one of the country's fastest growing communities of college-educated residents and some of the fastest growing bio sciences and financial services sectors. Our crime rate, still one of the highest, is also one of the faster-declining rates in the country. We regularly make lists of great places to start businesses and to invest in start-up businesses.

We have regained control of our police department for the first time since the Civil War and we have built a dozen major partnerships with a county that we confidently expect to reenter in this decade.

We have, for the first time in many years, a chance to move forward together with politics built, not on fear of change, but on trust in a better future.

For the city, the direction has been chosen.

For the past two years, we have worked with hundreds of different groups, city departments, and individuals to find out what kind of city they wanted - and how they thought we ought to proceed.

The result was a formal 250-page document of more than 300 economic, social, and environmental strategies that will guide St. Louis through the next two decades of the 21st century. It is a massive undertaking that will require the work of generations of St. Louisans - much of it by the younger generations represented on my Vanguard Cabinet.

From that document, I have picked and publicized 29 goals and strategies that will be my personal priority to implement over the next five years. Some of them are simple; some of them are complex; all of them are measureable.

The goals have to do with public safety, our economy, the arts, diversity, education, ecology, and infrastructure. Accomplishing all of them will make St. Louis a better city. They are not all that we will do, but they will inform and direct everything else.

I ask you to hold me accountable for the leadership and energy necessary to accomplish these goals. And I promise you the transparency in government necessary for you to make that judgment. The days of file drawers and silos of information, closely held and inaccessible, must end.

We have already started with a request to the directors of every city department asking them for the things they will do in the very near term and over time to reach the specific goals I have set. Getting these things done will require the efforts of a team. And that effort begins now.

Besides the directors, many of the goals will require the concurrence of the St. Louis Board of Aldermen. I congratulate the aldermen reelected to new terms, and I specifically note the election of Alderwoman Christine Ingrassia.

You are a special class of aldermen, the first since city voters endorsed your effort to reduce your number. You are the penultimate group of odd-numbered aldermen elected to serve in a body of 28 wards. One of your challenges will be to begin thinking how the next city legislature should be shaped.

Besides the aldermen, real change will require the concurrence of a majority on the Board of Estimate and Apportionment. I congratulate Comptroller Darlene Green on her reelection as she returns to continue an historic tenure of her own. And I look forward to working closely with President Lewis Reed, as we have in so much of the past.

Some of the goals I have chosen, like substantially reducing greenhouse gas emissions and opening 20 new schools, will take more than four years. And many more of the larger plan's goals will take decades. The challenges and the opportunities facing the City of St. Louis are not restricted to the length of anyone's term in office. But they are before us now - and we must grasp them.

There are those who believe that the election of a mayor to a fourth four-year term was enough history to make. I am not among them. I believe, rather, that the work that we will do together during the next several years will be what will make history.

I plan to see St. Louis as a global competitor, as an international trade hub, as an incubator of new companies; as a place of culture and the arts; as a magnet for immigrants, for entrepreneurs, for animal lovers, and for gays; as a city of parks and trails; and as the sort of place that figures in young people's dreams.

For too long, we have been anything but. For too long, our community has let itself be paralyzed by the tyranny of haters.

With today's oath, I firmly dedicate myself - every fiber of my being - to leading a city that gets better every day. We have gotten as far as we can get pulling against each other. For the next four years, let's pull together and see how much further we can get.

Thank you. God bless you.
Send feedback and tips to the author. Follow Sam Levin on Twitter at @SamTLevin.