Frederick Johnson, Don King Productions
Fight night did not go the Irish Outlaw's way.
Sadly, Ryan "Irish Outlaw" Coyne's long-awaited fight in Las Vegas did not go the hometown boy's way.
According to The Sweet Science, Coyne clashed with Kansas City's Marcus Oliveira for 11 rounds before going down once. Coyne managed to get back up and beat the countdown, but shortly thereafter fell to one knee on the other side of the ring. The ref stopped the fight there.
"I give him all the credit," Coyne said afterward. "He's a great fighter."
Daily RFT caught up with the Outlaw to ask about the fight and the absolutely insane facial gash he picked up from Oliveira.
See also: -Don King's Final Round -Video: St. Louis Boxer Ryan Coyne On His Lawsuit With the Legendary Don King -St. Louis Boxer Ryan Coyne Set to Fight April 12
Readers of our March 14 feature story "Don King's Last Round" know that there was a lot riding on this fight for Coyne -- after seeing his career stall for over a year and filing a lawsuit against the legendary promoter Don King, a victory in Las Vegas would have been a much needed shot in the arm to his career. It also would have translated into an automatic fight for the WBA world championship title. Alas it was not to be.
Here's what Coyne had to say Sunday night, via e-mail:
Obviously I'm disappointed with the result. I trained my ass off for this fight, but I knew I was going into a very difficult situation all things considered. I got off to a good start, fighting smart and jumping out to a lead before I picked up a BRUTAL cut from an accidental clash of heads. Obviously you have seen the picture. I have fought with cuts before, but this was an entire different complication. Most ringside observers had me ahead at this point...

I felt it was close, but knew that given all the controversy I've had with King in the last few months I wasn't going to be on the favorable end of the judges cards no matter how I was doing. The judges had it 99-91 and 98-92 at the time of the stoppage, but that was ridiculous yet expected. Bloodied and with a monumental task at hand I went into the later rounds chucking heavy leather and taking some big chances that I normally wouldn't as I didn't want King to screw me on a crooked decision. It didn't end up mattering as the high risk approach blew up in my face and I caught some heavy shrapnel. I beat the referee's count and felt I was ok to continue, but the ref disagreed. Probably for the better as there is only so much one individual can overcome. I spent the night in the hospital as a precaution, but I'm back in St. Louis now and resting.

I still have plenty of fight left in me, but more than anything I need this nightmare of Don King to be behind me in order for me to move forward with my life in the ring. I gave it everything I had and then some.
And boy, that cut Coyne is referring to is no joke. After the jump, some photos of the bout, and the picture that Coyne took of himself in locker rooms afterward. Warning for the squeamish, it is pretty graphic.
Frederick Johnson, Don King Productions
Frederick Johnson, Don King Productions
Frederick Johnson, Don King Productions
Frederick Johnson, Don King Productions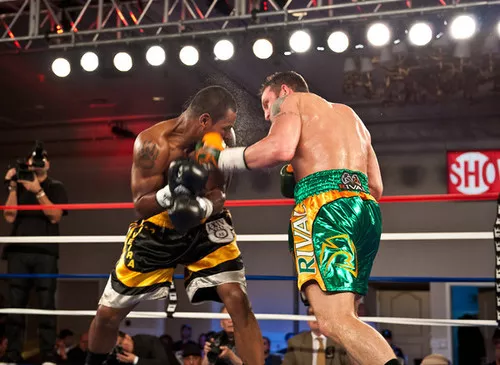 Frederick Johnson, Don King Productions
Frederick Johnson, Don King Productions
Frederick Johnson, Don King Productions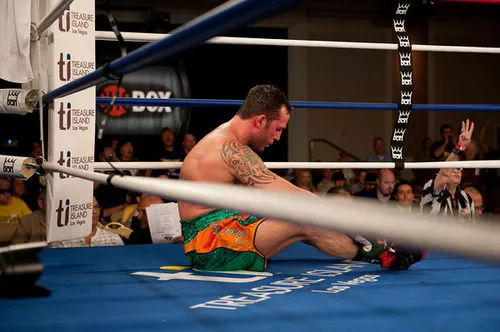 Frederick Johnson, Don King Productions
Click through for a GRAPHIC snapshot of Coyne's face, post-fight. Here's what Coyne posted to his Facebook page just after the fight:
This is one of the toughest nights of my life as I took my first loss as a professional prize fighter. It was a brutal battle that was nip and tuck into the final round. I picked up a massive cut from a clash of heads in the middle rounds and I was never really able to recover, but I never stopped trying to win. Fighting with a cut like this is incredibly difficult and proved to be too much. Not blaming this on a cut though. All credit to Marcus Oliveira who fought a tremendous fight and deserves all the accolades. This was a fucking war from the opening bell and unfortunately I came up short. For everyone who supported me I am very thankful.
Follow Jessica Lussenhop on Twitter at @Lussenpop. E-mail the author at Jessica.Lussenhop@RiverfrontTimes.com.