Most U.S. residents are aware that today, April 15, is the day we all must file our income tax return (if we haven't already). Probably not as many of us are cognizant of the fact that it's also the anniversary of the day in 1947 when Jackie Robinson integrated Major League Baseball.
Jack Buck interviewing Jackie Robinson.
On this occasion it seems appropriate to revisit a Daily RFT blog post from 2011, which we ran after longtime Cardinals radio flagship KMOX (1120 AM) aired a long interview with Robinson that featured a young Jack Buck. The radio station re-broadcast the interview, which took place in 1960, during an extended Cardinals rain delay and was kind enough to provide a few excerpts to Daily RFT so we could share them with our readers.
See also: - Jack Buck, "the Negro," and Jackie Robinson
Not long after opening the half-hour interview, Buck told listeners, "Rather than remaining in a sports vein, we'd like to deal with race relations," and opened the phone lines.
Among the questions posed by St. Louis listeners: What does Robinson think about the youngsters protesting with sit-ins? (They're awesome.) What does he think about then-presidential candidate John F. Kennedy? (Robinson was a Republican.)
A caller asked about interracial marriage -- which was illegal at the time:
Click through to hear another Robinson clip.
Another asked about lack of trust between blacks and whites: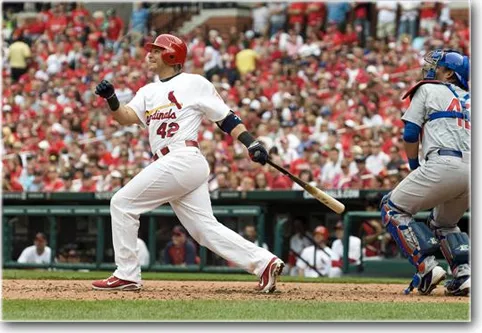 Cardinals catcher Yadier Molina sporting 42 at Busch Stadium on Jackie Robinson Day 2012
Owing to this past weekend's opening of the Hollywood biopic 42, starring Chadwick Boseman as the famously stoic Robinson and Harrison Ford as phlegmatic Brooklyn Dodgers (and erstwhileSt. Louis Cardinals) general manager Branch Rickey, Robinson recognition likely is on the uptick in 2013, though you wouldn't know it by the MLB schedule, which has one-third of the teams idle on this historic stormy Monday -- further proof, as if further proof were necessary, that the IQ of baseball's drooling, self-congratulatory commissioner Bud Selig hovers right around the Robinson Line -- that would be 42, of course -- not to be confused with the Mendoza Line.
See also: - RFT review of 42, starring Chadwick Boseman and Harrison Ford