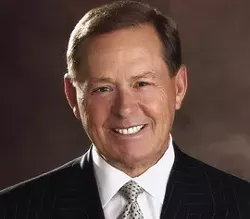 Just one day after a professor released results of a survey showing that a majority of faculty members at Saint Louis University want Father Lawrence Biondi removed as president, the chairman of the school's board of trustees has announced his resignation.
The two, Thomas Brouster says, are not at all related.
"I'm not being pushed out," Brouster tells Daily RFT, with a laugh. "There's no coup on the board."
Still, his decision to step down as chairman may well reflect some of the challenges the board of trustees faces -- with growing dissent among faculty and others at the university around the president's leadership.
Last year, faculty members overwhelmingly voted "no confidence" in Biondi, and there have also been a string of high-profile resignations directly in protest of the president's leadership.
The latest controversy centers on a faculty survey (and the university's initial threats to the professor trying to distribute it), which found that 607 faculty members out of 834 respondents think it's time for SLU to have a new president. (Critics of Biondi hope the board of trustees considers these results in its upcoming May meeting.)

Brouster says that none of this has to do with his resignation as chairman of the board of trustees (perhaps other than the fact that these challenges have made the position all the more time-consuming).
"It really is very simple," says Brouster, who is the chairman of Reliance Bank. "While I love the university, I just thought, 'I cannot do all of it.' That was my decision."
Brouster explains that he has been leading a turnaround at Reliance Bank where he recently raised $31 million in capital.
"I don't have the time to devote," he says.
Brouster, who became interim chairman last May and was vice chairman prior to that, says he has been struggling to keep up with all of his responsibilities.
Between the "meetings, e-mails, letters, phone calls...this has really consumed my time at the point where I was gaining control of Reliance Bank."
He adds, "To be honest, I have a sixteen-year-old...and seven grandkids.... It's very difficult for me in terms of trying to fit it all together."
Brouster says he informed Biondi earlier this month, and there are no hard feelings. Brouster will remain as chairman through commencement this year and will stay on as a member of the board of trustees after that.
"Father [Biondi] and I have known each other for a long time," he says. "We have listened to and responded to the faculty's concerns. We've done some pretty constructive things."
Going forward, he says, "I want to be able to contribute my time in a reasonable way."
He says he doesn't have a comment on this week's survey results -- mentioning that the board of trustees and others have been working on their own survey -- but adds, "My hope is that we can continue the spirit of cooperation."
Send feedback and tips to the author. Follow Sam Levin on Twitter at @SamTLevin.