Courtesy of Inkley
Tami Inkley with her son Matthew Pelligrini.
The grieving family of Matthew Pellegrini, an eighteen-year-old who was shot point-blank in the head by someone who claimed to be his friend, will have to wait one more week to find out the fate of the accused killer.
Yesterday, Judge Edward Sweeny decided to delay until next Friday the sentencing of Kevin Beindorff, who pleaded guilty in the high-profile case in which he told police that Pelligrini had "asked to be shot."
The delay may have something to do with the emotional testimony that seven different family members offered in court.
"What happened to my son, we can't change that. It will never bring Matthew back," Tami Inkley, Pellegrini's mother, tells Daily RFT this morning. "But the justice system has failed us."
Since the February shooting last year, Pellegrini's family has fought for a tough sentence for Beindorff, who was 21 at the time of the shooting and, according to Inkley, had only known Pelligrini for a few months.
Police say that the two were sitting in a car when Beindorff showed him a revolver, pointed it at Pelligrini's head -- and shot him. Beindorff told officials and has stated in court that it was an accident and that Pelligrini had "asked to be shot."
Courtesy of Inkley
Matthew Pellegrini at his graduation.
Instead of going to trial, as we reported last month, the Circuit Attorney's Office signed a plea agreement in which Beindorff admitted to involuntary manslaughter. That could give him seven years in prison. The judge has leeway when it comes to sentencing the charge of "armed criminal action" and could give Beindorff a maximum sentence of life.
The family, which strongly opposed the plea agreement, is hoping for at least twenty years -- and expressed their pain yesterday to the judge.
"We're feeling hopeful that maybe somebody said something that touched his heart," Inkley says. "The prosecutors were just so non-caring. They just wanted to push this case along...just another shooting."
She continues, "I do feel that anything below [twenty years] sets a standard for St. Louis...of soft sentencing... And the victim-blaming has got to stop. If we keep blaming the victims for what the perpetrator's actions are, this is what happens.... It's got to stop."
St. Louis Circuit Attorney Jennifer Joyce issued a statement, full version on view below, saying that she was pleased the victim's family came and shared their thoughts and says, of the plea deal, this is a "rare occasion" in which prosecutors and the victim's family don't agree.
Continue for Joyce's comments and for the full statements from the family members.
"I have deep compassion for Ms. Inkley, Mr. Pelligrini and all families of violent crime," Joyce says in the statement. "I am so sorry for the loss they have experienced. We are committed to ensuring that Matthew Pelligrini and his family receive justice."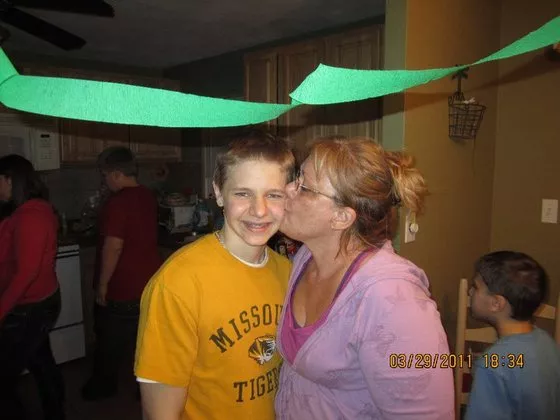 Meanwhile, the family delivered emotional statements, full drafts also on view below, explaining the impact this loss had on them.
"Our actions are not out of anger or vindictiveness. It's strictly out of justice," Inkley says. "Any family that has to go through the pain of losing a child and then have to fight to get justice, it's unreal."
Inkley says that Beindorff appeared bored and emotionless -- and she's tired of hearing him say that he was her son's friend.
"He was not a friend," she says. "Friends don't shoot friends in the face."
The public defender for Beindorff tells us that until the sentencing occurs, he has no comment.
Below are three of the family member's statements followed by Joyce's full statement.
Send feedback and tips to the author. Follow Sam Levin on Twitter at @SamTLevin.