via Facebook
Thomas Duroso, alleged KSDK harasser.
Update below: We here at Daily RFT are no strangers to very angry readers commenting on our articles and Facebook page expressing outrage, hate, disgust, etc. But generally they don't show up in person to our office, demand to speak with us and threaten to hurt us -- and tell us we may soon face death.
But this appears to be the case with Thomas Duroso, 32, who allegedly has some serious gripes with KSDK (Channel 5) and decided to repeatedly harass several employees in a series of obscene Facebook messages -- and then, last week, in person.
One threat said "enjoy the last remaining moments of life," according to a probable-cause statement, on view below. In addition to this alleged harassment, Duroso also apparently spends a lot of time posting strange rants on his own Facebook page and filming bizarre videos on YouTube.
First, the official accusations.
The probable-cause statement from the Circuit Attorney's Office says that Duroso is facing six counts of misdemeanor harassment charges that date back to November of 2012.
He allegedly began contacting KSDK employees last fall. The statement says:
Beginning in November 2012, the defendant began contacting many KSDK employees. The defendant would often send Facebook messages to the employees, however the defendant has also called KSDK employees and showed up on the KSDK premises. In these phone calls, voicemails and Facebook messages, the defendant used vulgar and threatening language and obscenities. He would also threaten harm against the employees.
Thomas Duroso's official mugshot.
The charges, first reported yesterday by the Post-Dispatch, list five victims at the company.
He sent one a message last year, "calling [an employee] an obscene name and threatening him using vulgar language."
In addition to the "enjoy the last remaining moments of life" threat, Duroso allegedly sent a Facebook message to another employee "threatening harm to her and other individuals."
Continue for more details on his accusations, including his visit to KSDK headquarters.
Threatening messages continued in January, and last week, the report says, he called KSDK repeatedly and "threatened that something bad will happen to the KSDK family."
"He...threatened to come down to the KSDK station and cause him physical harm," the report says, adding that he said "he wasn't playing anymore."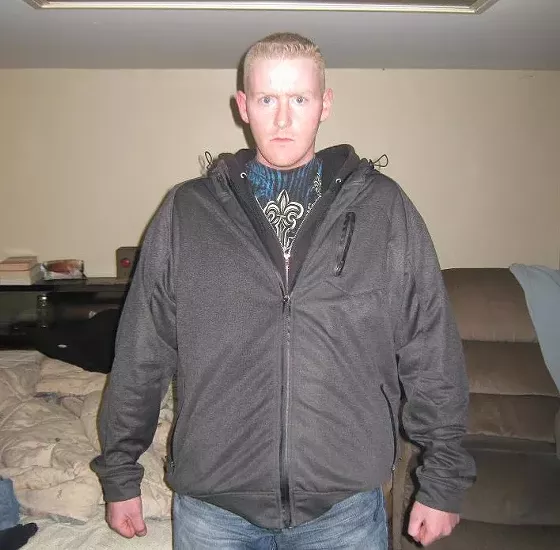 Later that day, April 2, he showed up at KSDK's offices and asked to meet with several employees.
The station has taken extra security measures, the charges say, adding that employees now "fear for their lives."
Meanwhile, Daily RFT easily found his Facebook page, which includes photos of him wearing the same T-shirt he is wearing in his mugshot. (And in one bizarre rant, he even lists his address, which matches police records.)
His page is filled with all-caps rants with very little punctuation.
And his YouTube page includes several videos of him referencing a "call to repentance and faith in Christ."
Here's one screenshot of his latest video, in which he holds a piece of paper saying "last warning."
Update 12:53 p.m.: We spoke briefly this afternoon with KSDK News Director Mike Shipley who tells us, "It's a security matter for us. We are taking appropriate measures.... We are taking precautions for our employees."
Here's the full probable-cause statement.
Send feedback and tips to the author. Follow Sam Levin on Twitter at @SamTLevin.