Madison County Sheriff's Office.
David Hurley, twenty.
A 77-year-old Alton, Illinois, man asked two young men speeding by in a truck to slow down. Instead, they drove their vehicle straight into his yard -- but not before attacking him.
At least these are the accusations of police who say that Tyler Bates, age nineteen, is now facing charges of aggravated battery. And his alleged accomplice, David Hurley, twenty, the driver at the time of the incident, is facing criminal damage charges.
Police were able to track down the two with the help of Christina Hurley, 21, who is the sister of the suspected driver. But she, too, was arrested because she was actively wanted out of the Collinsville Police Department for a failure to appear on a traffic offense, officials say.
What happened to the elderly man?
Last Friday at around 1 p.m., the Madison County Sheriff's Office responded to a call at the 2800 block of Ridgedale Drive in Godfrey, Illinois, and there met with the 77-year-old victim and a witness. Those two had been working in the front yard of a home on the block when a black truck sped by them.
They yelled at the driver to slow down -- and Hurley, a Godfrey resident, stopped the vehicle altogether. He and Bates, an Alton resident in the passenger seat, both began screaming and cursing at them, police say.
Madison County Sheriff's Office
Tyler Bates, nineteen.
Bates then got out of the car, allegedly "bumped his chest" against the 77-year-old and shoved him with both hands. The victim told police that he "stumbled into a ditch," but wasn't seriously injured. Bates got back in the truck and they sped away.
But they apparently were not satisfied with that attack.
Police say that as the victim was calling the sheriff's office, the suspects returned in the vehicle. This time, they allegedly drove the truck off of the roadway and straight through the witness' yard, damaging the lawn -- before fleeing once again.
Continue for more details on the arrests and for more photos.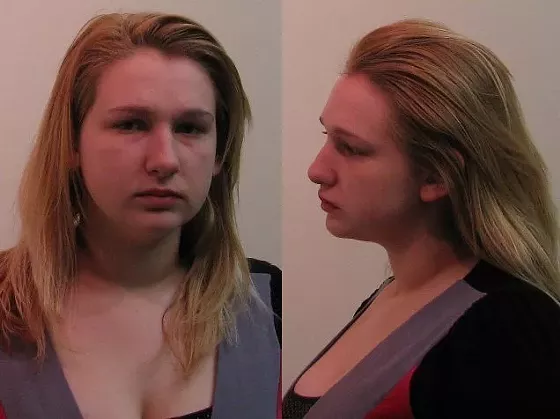 Madison County Sheriff's Office
Christina Hurley, 21.
It didn't take long for officials to track them down. Bates was the registered owner of the car, and when they located the vehicle at an Alton address a few hours later, Christina Hurley was inside.
She helped set up a meeting with her brother and Bates and the deputies -- and all three were ultimately arrested.
Madison County Sheriff's Office
David Hurley, twenty.
Bond was set at $40,000 for Bates, who qualifies for an "enhanced" felony offense, because the battery victim was older than 60. He remained in custody in the Madison County Jail as of yesterday. David Hurley was released on a $5,000 bond the following day, and his sister was released into the custody of Collinsville Police.
Send feedback and tips to the author. Follow Sam Levin on Twitter at @SamTLevin.