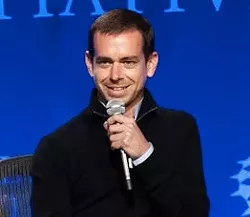 Jon Gitchoff / RFT Slideshow
Twitter cofounder Jack Dorsey in St. Louis.
St. Louis residents Marcia and Tim Dorsey would like to get "verified" on Twitter through the website's official badge of authenticity (that little blue check next to a user's name).
Twitter generally reserves those verifications for well-known movie stars, politicians, athletes, etc. -- but these two are arguably quite deserving.
After all, they're the grandparents of Twitter.
That's right: Marcia and Tim, the parents of Twitter cofounder and St. Louis native Jack Dorsey, would like the site to verify their accounts.
And they're tweeting up a storm to promote the cause!
Tim Dorsey (@Tim535353, 3,724 followers) and Marcia Dorsey (@marciadorsey, 848 followers), who live in St. Louis, have been tweeting requests to get their accounts verified since yesterday.
Tim made the case quite succinctly: After all, Jack only has one dad!! And Marcia's request was just an innocent question: Still, maybe Tim and Marcia need a full-on Twitter campaign to make it happen -- that is, if their son is not going to pull a few strings for them:
Continue for more on the Dorseys...and Mayor Francis Slay's tweet in support.
Thankfully, the Dorseys got the support of Mayor Francis Slay, who knows the Dorsey family. He tweeted a direct (and kinda poetic!) plea to
Jack
: Slay's input prompted a two-word plea from Tim directly to the CEO of Twitter: Maybe they should just hold Jack hostage.
Looks like @jack, who was back in St. Louis this weekend, hasn't addressed his parent's request...on Twitter at least.
Might have to dock Jack (the billionaire)'s allowance!
h/t
@publiceyestl
:
Send feedback and tips to the author. Follow Sam Levin on Twitter at @SamTLevin.