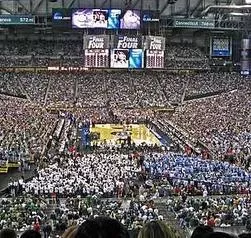 The view from that other Final Four.
Some things are best left unseen, like catching your grandpa naked or eying the kitchen at what -- until that moment -- had been your favorite budget restaurant.
The same could be said for the "Final Four" of collegiate chess. When we wrote about Webster University's participation in the event last week, we pictured something akin to college basketball's annual championship -- albeit on a much smaller scale. We had no idea how small, however, until the pictures started rolling in over the weekend via the Twitter feed of Webster's coach Susan Polgar.
This one came with the teaser, "Spectators on their feet. Time pressure coming soon."
Yes, the spectators (all eleven of them!!) are on their feet because there is no place to sit. And where the hell are they playing this Final Four anyway? A basement call center?
Then came the following, promising "hot and heavy action down the stretch."
We recall a similar scene of "hot and heavy action" the last time we were at the dentist office, with the people in the waiting room flipping through magazines and clock on the wall audibly going tick, tick, tock. But, hey, our bad for imagining that the Final Four of chess would draw more than a few observers and somehow be photo-worthy.
And, seriously, congrats to Webster for taking home the trophy and Polgar for coaching three consecutive teams to a championship. (The other two were at Texas Tech where she coached prior to Webster luring her and several of her scholarship players away last year.)
Here's one last pic of the victorious Webster U. team celebrating. Let's all pretend that the blurry woman is a fan storming the court. It makes for an even happier ending that way.