Another Republican lawmaker in Missouri is getting national attention -- this time for a very short piece of legislation that critics say could punish poor children who get sick.
House Bill 1040, introduced last week, says in its entirety: "School age children of welfare recipients must attend public school, unless physically disabled, at least ninety percent of the time in order to receive benefits."
"It's a pretty mean bill," Democratic State Rep. Stacey Newman tells Daily RFT. "Let's do more to hurt lower-income people, and let's assume that they're all committing fraud."
If passed, how could it impact students and families?
It's not all that clear, in part because the bill, with only one sentence, doesn't really outline how it would work in practice.
And that's one reason why critics are slamming the proposal.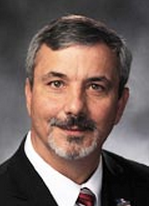 "There are all kinds of ramifications," Newman says.
By tying welfare benefits to school attendance, the law, opponents say, could punish students who face a serious illness that requires them to be out for several weeks. If passed, this bill would hurt children battling sickness or difficult situations by taking their food stamps away and making life even harder for them, critics argue.
Newman says it's obvious that this proposal is just a statement and publicity stunt.
After all, Cookson was the representative who got national attention for the so-called "don't say gay" bill, which was proposed last year and would've placed sweeping restrictions on mentions of gay issues in school -- banning gay-straight alliance clubs, forbidding conversations about LGBT bullying, etc.
Critics are now calling his latest bill the "don't get sick" proposal.
Newman says the proposal is not only offensive, but it also poses serious problems by saying, "School-age children of welfare recipients must attend public school"; she notes that some recipients of welfare may get scholarships to private schools.
With the zero details, the bill also doesn't even define "welfare" in this context, creating further problems, she says.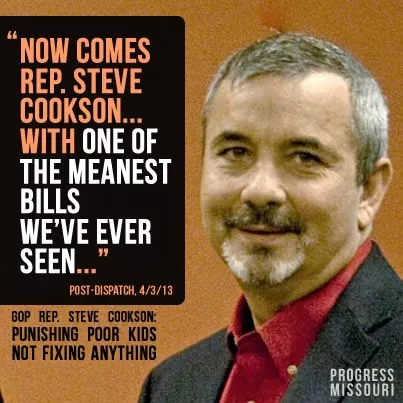 via Facebook
Image posted on Friday by Progress Missouri.
"It's more of a statement," Newman says, pointing out that Republicans this session have not shied away from stunt bills, including one that would criminalize lawmakers who even propose gun control, like she has.
Continue for more details on the proposal and the national attention it has received.
Cookson, Newman says, "is using our legislative resources to file a statement bill basically indicating that those that are receiving any kind of government assistance...and their children are not going to school, that there is fraud."
Cookson, who is from Poplar Bluff, is also the chairman of the elementary and secondary education committee of the House and could thus get a hearing on the bill in the final weeks of the session.
The proposal has already gotten national attention with write-ups in the Huffington Post and Mother Jones.
The bill was filed the same week that a Republican representative in Missouri compared federal health-care recipients to "zoo animals."
Daily RFT left a message with Cookson's office. We'll update if we hear back.
Here's the full draft:
Send feedback and tips to the author. Follow Sam Levin on Twitter at @SamTLevin.