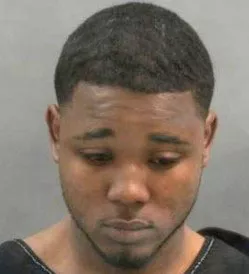 Is it safe to buy stuff on Craigslist?
Not if you're responding to the ads of Christopher Duffy, 22, and Devion Russell, 20, who police say twice plotted robberies via St. Louis Craigslist -- luring victims with promises of a used car and then robbing them at gunpoint.
Police have charged the two men in connection with the incident last Wednesday, in which a man was shot in the face when he went to check out a vehicle from Craigslist.
And that was the second armed robbery the two suspects orchestrated last week, police say.
The lengthy probable cause statements of both men, on view below, say that on Monday, April 1, a man and his son showed up to the 4600 block of Bessie Avenue to view and potentially buy an SUV that had been advertised on Craigslist.
They had talked with seller via text message and had set up a time to meet, the report says.
Duffy then approached the victims and told them to come to an alley to purchase the car. At this point, the two reportedly refused and asked that he bring the car to the street to show them.
Duffy then disappeared behind the home and came back a short while later -- with a gun.
The suspects stole $2,500 from the two and then fled in the victims' pickup truck.
Then, two days later, as we reported, the pair plotted a similar scheme, this time on the 4400 block of Elmbank Avenue. According to the charges, the three victims in this instance didn't get out of the car and tried to drive away when the suspects pulled out a gun on them.
That's when one man, the driver, was shot in the face, the report says.
Police say he managed to drive to a nearby auto parts store and was eventually taken to the hospital where he was in serious, but stable condition.
Continue for details on their charges and Craigslist safety tips.
Duffy and Russell are both facing five counts of first-degree robbery, three counts of first-degree assault and eight counts of armed criminal action.
Court records show that Russell has a pending misdemeanor case for marijuana possession and possession of an illegal firearm -- in which he pled guilty in 2011. Duffy is currently on probation for a controlled substance possession conviction. His criminal record also includes kidnapping, domestic assault charges and more.
After the arrests this week, local law enforcement officials sent out warnings about using Craigslist.
St. Louis County Police Chief Tim Fitch said: And St. Louis Circuit Attorney Jennifer Joyce, tweeted: And:
Her advice, full document below, says that people should never go alone to meet a buyer or seller and should always meet in a public place, not at someone's home.
Here are the probable cause statements followed by the Craigslist safety guide.
Craigslist Safety Tips by circuitattorney
Send feedback and tips to the author. Follow Sam Levin on Twitter at @SamTLevin.