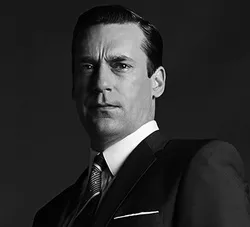 John Hamm and Little John.
In honor of the season premiere of Mad Men last night, we here at Daily RFT wanted to be sure to give some love to local hero Jon Hamm.
And why not do it in the most immature way possible! The St. Louis native has gotten all kinds of attention in the weeks leading up to the much anticipated sixth season -- in large part surrounding the adventures and mishaps of his very abnormally huge penis. At Hamm's humble request, we said we'd try to stop talking about Little John, but with all the chatter last night (everyone had big expectations!) we just couldn't help ourselves.
Below, the RFT staff's top twelve nickname suggestions for Jon Hamm's penis.
(And Jon, we'd like to note, in our defense, that this might help you! If your little guy has his own identity that is more separate from yours, nickname and all, maybe you can distance yourself from the controversy. Blame it on him! As far as we can tell, he's yet to give any interviews).
See also: - Jon Hamm is Sick of Everyone Talking About His Huge Penis (Sorry, Jon!) - You're Not the Only One Obsessed With Jon Hamm's Enormous Penis - How Can You Possibly Live Without a Jon Hamm Coloring Book? - Jon Hamm Raps, Advises Teenage Girls
12. Hamm And Eggs
11. Hamm Bone
10. Hamm Boner
9. Long John
8. Little John
7. Ham Johnson
Continue for the rest of our nickname suggestions.
6. Big Bad John
5. Ham Cock
4. The Hammer
3. John's Hamm
2. John Hamm's Salami
1. Dong Draper