Riddled: Complaints mount as county officials consider permit.
Local cattle farmer Jeff Stein says an effort to bring a gun range to rural Franklin County will create a "war zone" atmosphere and expose nearby residents to the sound of gunfire from dawn to dusk.
Stein was one of some 50 concerned citizens who packed a county zoning board meeting last month to voice concerns over the range.
"It will completely destroy (the community's) way of life," says Stein, who tells Daily RFT that he has consulted a real estate expert and mental health professional about the gun range and both have backed his assertion.
But the man behind the gun range, Robert Dix, says Stein and others are way off the mark.
"We had one person say that they thought there would be people driving around with night vision in a car and shooting targets," Dix says. "That's the crazy stuff that we're hearing. They're running around yelling the sky is falling, and it's not."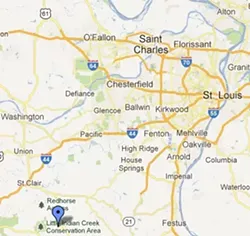 The proposed range lies about an hour southwest of St. Louis.
Dix, who owns Top Gun Shooting Sports in Arnold, has an option to buy 210 acres along Highway 47 South in Franklin County. He says the proposed outdoor range would be a members-only club that would also offer archery, fishing and paintball. Shooting sports would include clay pigeons, tactical shooting, a trapshooting field and a 100-yard rifle range.
Dix says the rifle range would be the loudest of those but is far enough away from the nearby resident to hardly register a decibel reading. Membership for the club would be limited to 150 people.
"Where they're coming up with this 'there will be hundreds of shooters' and it will sound like a 'war zone' is not fair," Dix says.
The site of the proposed gun range had been zoned for agricultural use prior to the county commission recently approving the land for conditional use. Dix is still waiting on a conditional use permit from the zoning board to allow him to open up shop.
Stein, who grew up in Franklin County and works weekdays for a private equity firm in St. Louis, says the county acted too quickly in changing the zoning.
"There is literally not one supporter of this except the owner himself," argues Stein. "(The zoning commission's) job is to protect the welfare and the balance of life and the quality of life, and you can just prove demonstrably that this is a total flagrant disregard if this goes though."
The zoning board is expected to make a decision this month. Should the range be approved, Stein says he will immediately take the matter to court.
"I deal with noise, confusion, congestion," says Stein of his commutes to St. Louis for work. "I welcome that as part of my daily life, but I go out there (Franklin County) to seek solitude, to retreat. And I don't want that taken away from me, nor do I want it taken away from the people I grew up with."