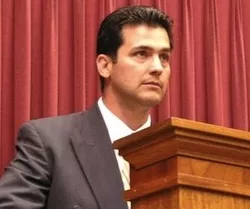 via Facebook
State Senator Brian Nieves.
Missouri state senators are busy this week, and yesterday they came together to successfully pass a bill. Hooray! Laws are important, because they impact our lives, right?
With SB 265, which has made its way out of the Senate and is headed to the House for consideration, some argue the tangible consequences in actual, real life are, you know, questionable.
On its way to potentially becoming law, the proposal, as we've outlined before, would give Missourians clear protections against a sustainable development agreement of the United Nations...that President George H. W. Bush signed in 1992.
It is, according to some Missouri Republicans, a very serious threat.
The proposal comes from Republican Senator Brian Nieves, and yesterday received a 24-9 vote, advancing it forward to the House:
Last month, we took a closer look at some of the materials Nieves has presented in support of the bill, which blocks aspects of Agenda 21, the non-binding United Nations pact that some conservatives across the country have called a direct threat to American freedom.
Agenda 21, according to its opponents, contains a wide range of possible negative impacts, like higher taxes, restrictions on human activity, eminent domain and other government efforts that allegedly threaten individual liberties in the name of sustainable development goals.
In the House, one person who testified expressed concerns about a possible St. Louis bike trail conspiracy, for example.
At one hearing, Rep. Lyle Rowland, the House sponsor, said in a comment that received a fair amount of attention, that the true details of Agenda 21 "will probably make your hair fall out."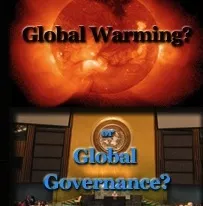 Source material of one of the groups from which Nieves borrowed literature.
Apparently, a large majority of senators are convinced.
Continue for more details on the legislation and the full draft.
As written, the bill explicitly prohibits government from implementing any policy that can be traced to Agenda 21 and infringes on private-property rights.
Rowland recounted in an interview in February that a constituent told him Agenda 21 would "scare the bejesus out of you!" prompting him to do research and actively seek protections via legislation.
These types of anti-Agenda 21 bills have been introduced here and across the country for awhile now, but it would appear that this is the first time it has made it this far in Missouri.
Daily RFT left a message for Nieves yesterday and will update if we hear back.
Here's the latest version of the House bill.
Here's a flier for an informational session on Agenda 21 this week at the Capitol, followed by audio, courtesy of Progress Missouri.
Agenda 21 Poster by ProgressMissouri
Send feedback and tips to the author. Follow Sam Levin on Twitter at @SamTLevin.