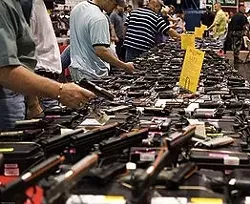 Is it too easy to get guns in Missouri?
Though top Republicans in Missouri are devoting a lot of time and money to protect the privacy of gun owners, a new report says that officials in the state have a much bigger problem they need to address: really high rates of gun violence supported by very weak laws.
The Center for American Progress released a report yesterday analyzing gun violence and gun laws in all 50 states -- and found that Missouri is one of the top ten worst in several areas.
"The best way to prevent gun violence is to ensure that dangerous people and criminals that are not permitted to have guns can't get them in the first place," Chelsea Parsons, a co-author of the study, tells Daily RFT.
See also: - Gun Control: Dick Durbin Wants to Lower East St. Louis Homicide Rate - After Firearm Privacy Lawsuit, Missouri Senate Wants Proof There's No Conspiracy - St. Louis Gun Docket: Can Courts Do a Better Job of Prosecuting Weapons Offenses?
The report, called America Under the Gun, from the liberal institute based in Washington, D.C., has a number of alarming statistics about gun violence in Missouri that its authors say should encourage lawmakers here to enact more sensible policies.
Overall, Missouri was No. 8 for the highest level of gun violence, according to the report, which analyzed a range of 2010 gun-violence indicators, including overall firearm deaths, homicides, suicides, law-enforcement gun fatalities, crime-gun export rates and more. The full report and a Missouri-specific fact sheet are on view below.
Missouri had the fourth-highest rate of homicides with a firearm in the country, with 5.6 homicides per 100,000 people. That is 56 percent above the national average.
Further, the state had the fifth-highest rate of aggravated assaults with a firearm in 2011, with 5,290 cases. The report says that comes out to one case every 90 minutes.
Some other noteworthy Missouri numbers, straight from the report:
-From 2001 through 2010, 7,525 people were killed by guns in Missouri. That is almost 50 percent more than the number of U.S. combat deaths in the Iraq and Afghanistan wars combined.

-In 2010 there were 335 gun murders in the state, or one almost every day.

-Missouri had the sixth-highest rate of gun deaths among children ages 0-18 in 2010. Tragically, 62 children were killed by guns in 2010 alone.

-As of 2010, Missouri's rate of females murdered by guns was eighth worst in the nation.
"These are really disturbing numbers," says Parsons, associate director of crime and firearms policy at the center.
Continue for more of our interview with Chelsea Parsons and for the full reports.
The report argues that the state has very "poor gun-safety measures," noting that the Law Center to Prevent Gun Violence gave Missouri an "F" rating for enacting "few" gun-violence prevention laws. And the Brady Campaign to Prevent Gun Violence gave the state a 4 out of a possible 100 points on its 2011 scorecard, ranking it 39th out of all 50 states for "strength of gun laws."
Additionally, weak gun laws make Missouri a "favorite state for gun traffickers to purchase guns," the report says, pointing out that in 2009, the state sold nearly 600 guns that were later used in crimes in other states.
One solution? Universal background checks, says Parsons.
"I would encourage people in Missouri to take this as a call to action," she says. "Do something and take meaningful steps to address this problem."
State Representative Stacey Newman, a Democrat and loud proponent of gun control, has proposed a universal background bill this session. That effort, which would close a loophole that permits sales without background checks, has gotten nowhere because Republican leadership in the House strongly opposes it.
And opponents of stricter policies have criticized the Center for American Progress report and similar research, arguing that tighter laws don't necessarily correlate to lower gun violence, saying that it can have the reverse impact of punishing law-abiding gun owners who are just protecting themselves.
In Missouri and across the country, gun-rights proponents argue that criminals will find a way to get guns one way or another.
Parsons responds: "Why should we make it easy for criminals to get guns?"
She notes that, nationwide, around 40 percent of sales don't go through background checks.
"We shouldn't make it so easy," she says.
Here's the full report.
And the Missouri fact sheet.
Send feedback and tips to the author. Follow Sam Levin on Twitter at @SamTLevin.