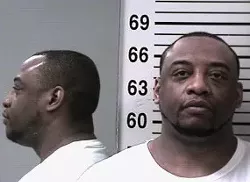 Michael Thomas says he's innocent.
The biggest local dog news this week is the story of a three-month-old puppy that witnesses say was dragged for many blocks like a stuffed animal until she was nearly unconscious.
But Michael Thomas, the 38-year-old Alton, Illinois, resident charged with animal cruelty, says the whole thing was blown way out of proportion -- and says he just wants his puppy back.
"I'm really hurt here," Thomas tells Daily RFT. "I miss her. I love her."
What's his side of the story?
As we reported yesterday, Thomas was arrested after passersby called police and told them that the man was dragging the small puppy down the street for blocks and didn't stop even when they asked him to.
He was charged with a misdemeanor count of animal cruelty and the local volunteer group Hope Animal Rescues took in the injured pup (who rescuers say is now recovering in foster care and will be up for adoption).
The case got a lot of attention in part because Thomas reportedly had told police that his veterinarian told him to train the puppy to walk by dragging it.
Courtesy Hope Rescues
The three-month-old puppy.
Thomas, however, tells us this is an exaggeration -- and that his actions did not come close to what has been described in news reports.
"I didn't drag the puppy," he says. "We were battling for a minute. She didn't want to walk.... I tugged."
Thomas, who says he is legally blind, tells us he had the puppy for about eight weeks, but has owned other dogs in the past. He says her name is Haylie, though Hope Animal Rescues says they've changed the labrador's name to Harper.
"Everybody is screaming at me and hollering at me that I was mistreating my dog, but I wasn't," Thomas says. "It didn't make sense."
He admits that he was trying to get her to walk and that she wasn't initially cooperative, but argues that there was no cruelty. And it was just a few blocks that they had even traveled, he argues.
"Even if I did drag her, I didn't drag her that far," he says, refuting reports that it was seven or eight blocks.
Continue for more of our interview with Michael Thomas and for more photos.
Thomas says he is trying to get his side of the story out there and agreed to an interview with KTVI (Channel 2) -- but says the facts are still getting distorted. The station writes in its report:
Michael Thomas wants to tell his side of the story. He says he thought dragging a dog is an appropriate form of training a puppy.
"I'm stressed out," he tells us of all the negative attention. "It's bogus that they took her away from me. That dog has never been beaten. That dog has been treated well."
He wants her back but knows that will probably never happen; he says he hopes to get another dog, but that, too, could be difficult given the charges he now faces.
"I just want this to be over," he says.
He has a court date next month and Thomas, who was in jail on Easter Sunday, says he plans to plead not guilty.
"I love that dog. I love all...dogs," he says. "I am not a bad guy."
Send feedback and tips to the author. Follow Sam Levin on Twitter at @SamTLevin.