One of the more controversial proposals at the Missouri legislature this year is a GOP bill that would allow doctors to refuse to perform procedures that "violate his or her conscience or principles." Critics, like Planned Parenthood, say this is "denial of care" legislation that could prevent rape victims from accessing emergency contraception and even block care for women in life-threatening situations.
The bill's sponsor, House Speaker Tim Jones -- who has recently been active in fighting federal contraception mandates -- has said that the bill would not block rape victims from getting emergency contraception.
What does the Missouri Catholic Conference, which is actively supporting Jones, have to say about the impact on victims of rape?
"Obviously, those are difficult cases," Tyler McClay, general counsel, tells Daily RFT.
We recently spoke to McCay in the context of the legal battle to block President Barack Obama's health care law in Missouri as it relates to mandatory coverage of contraception.
A federal judge ruled last month that Missouri employers can't deny birth control coverage due to their religious beliefs -- overturning a state law that the decision said directly contradicted federal law.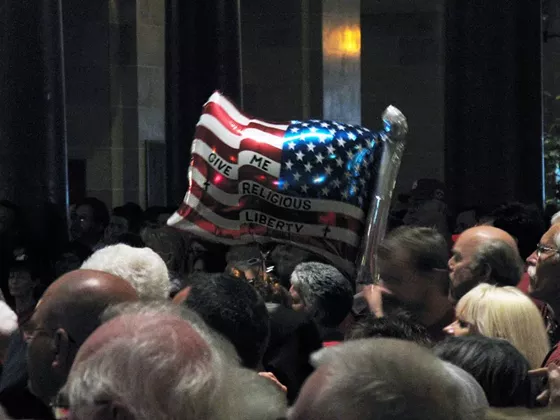 The Missouri Catholic Conference, the public policy agency for the church in Missouri, slammed the ruling and urged the attorney general's office to appeal.
But what is the church's stance on House Bill 457 which establishes that doctors can decline certain care that violates their beliefs?
"The bill would allow a nurse to refuse to participate in giving any of those drugs," McClay tells us. "Whether that would mean the patient wouldn't get it is another question."
Critics of the bill argue that the proposal could directly block victims of rape from accessing the care that they need, if, for example, they don't have the means to find a second option when doctors refuse them, citing the moral conscience law.
"One individual person could say they are not comfortable giving Plan B, ella [birth control or other drugs]," argues McClay, adding, "I don't see anything about it that would be illegal."
Continue for more of our interview with Tyler McClay and for the full legislative proposal.
While the Obamacare birth control case has to do with federal versus state laws, proponents of this conscience bill argue that there isn't a federal law that this Missouri act would directly contradict.
House Speaker Timothy Jones.
Still, "Anybody can get sued for anything," McClay says.
And Planned Parenthood argues that this bill is overreaching and would open the door for doctors to broadly discriminate against women seeking all kinds of care.
McClay says that with all kinds of new drugs and technologies, Missouri needs an explicit law that ensures doctors don't have to do anything that contradicts their morals.
"It provides conscience protections," he says. "We create all these moral quandaries [with new technologies].... We've got to say, should people be forced to do that if it violates their conscience?"
Here's a draft version of House Bill 457, which had a second read last week.
And here's a press release last month from Planned Parenthood that outlines some of the concerns.
HB457: DENIAL OF CARE BILL THREATENS TO RESTRICT ACCESS TO REPRODUCTIVE HEATLHCARE IN MISSOURI

Jefferson City, MO -- Today the Missouri House took up legislation (HB457) designed to protect and encourage those who refuse to provide critical reproductive health services to women in Missouri.

Missouri law already grants protections to individuals who refuse to provide access to safe and legal abortions. This bill unnecessarily expands the law to protect and encourage the denial of birth control including emergency contraception to rape survivors, sterilization, assisted reproduction and stem cell research. The bill also allows medical professionals and institutions to deny referrals for the necessary care if they refuse to provide it. Patients in need of care for a range of reasons could be discriminated against and left without care they need.

For example: • A rape victim could be denied information and access to emergency contraception, even when it is the hospital's policy to adhere to these standards of care outlined by the American Medical Association, the American College of Obstetricians and Gynecologists and other accrediting bodies. • A woman with an ectopic pregnancy that isn't considered life threatening yet could be denied care, including a referral as to where to receive care, until she comes back so sick that her life is in danger. • A woman experiencing a miscarriage could be denied care because her life is not considered to be at risk. This delay could cause the woman to have serious health issues or even die. • A patient at risk of contracting HIV could be refused information about and access to contraception. Similarly, allowing providers to deny contraceptive information and access could mean people with HIV may unknowingly infect others. • A married couple having trouble getting pregnant could be refused time sensitive information about assisted reproduction and lose their chance at having a child. • A woman with a condition that significantly increases her health risks during pregnancy, such as cancer, rheumatic fever, severe diabetes, phlebitis, sickle cell anemia and heart disease, could be denied information about how to prevent a pregnancy.

A woman should have accurate information about all of her options. Information should support a woman, help her make a decision for herself, and enable her to take care of her health and well-being. Information should not be provided with the intent of coercing, shaming or judging a woman.

Planned Parenthood works hard each and every day to provide essential -- often life-saving -- health care services. In fact, last year nearly 80,000 women, men and teens came to Planned Parenthood affiliates in Missouri for services such as cancer screenings, STD testing, comprehensive sex education, and birth control.
Send feedback and tips to the author. Follow Sam Levin on Twitter at @SamTLevin.