Courtesy Hope Rescues
Harper the puppy was dragged for blocks.
Alton, Illinois, resident Michael Thomas, 38, was trying to walk his three-month-old yellow labrador on a leash over the weekend, but when the puppy wasn't cooperative, he began to drag her. For many blocks. Until the little pup was nearly unconscious.
So says Jackie Spiker, cofounder of Alton's Hope Animal Rescues, who eventually took custody of the badly injured puppy, now named Harper.
"When police arrived on scene, she was completely motionless," Spiker, who talked to witnesses that alerted authorities, tells Daily RFT. "He was dragging the puppy like it's a stuffed animal. But it wasn't. It was a real puppy."
KTVI (Channel 2) says that after his arrest over the weekend, Thomas offered an explanation: A veterinarian told him to drag the puppy -- to train her.
Spiker tells us she heard that he had given that excuse -- but knows that no vet would ever advise puppy dragging.
"He probably was not listening," she says.
Spiker tells us that witnesses driving by at first thought he was just a strange man dragging an actual stuffed animal on a leash -- but when they saw him a second time, they realized it was a live puppy he had. And she was being very badly hurt. Their attempts to tell him to stop were not successful.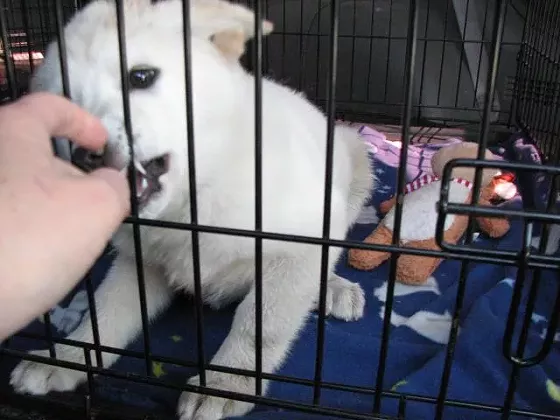 Continue for more on Harper's rescue and recovery.
Witnesses called police who arrested Thomas and took the pup away from him, she says.
"'You know you're dragging your puppy!'" the witness told Thomas, according to Spiker. "Then, he picked up the puppy...said, 'She isn't walking'...and slammed her to the ground."
Harper, is now recovering. She was overheated, dehydrated, exhausted and suffered a lot of bad scrapes.
"She's scared to death of a leash," Spiker adds. "Everyone is just carrying her."
Harper is now in a foster home about an hour away from the incident and is going to be up for adoption.
Spiker says she has seen worse violence against dogs, but says that this owner clearly did not know what to do when the puppy didn't want to walk. "He was angry...so he thought he'd drag her until she got up and walked, which did not happen.
She adds, "You can easily kill a puppy just dragging her like that."
Send feedback and tips to the author. Follow Sam Levin on Twitter at @SamTLevin.