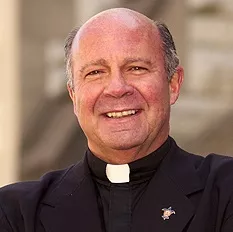 President Lawrence Biondi
Here's one way to pretty much guarantee negative publicity, courtesy of Saint Louis University officials.
SLU's legal counsel, in an apparent attempt to stop a faculty survey on the embattled university president Father Lawrence Biondi, has threatened legal action against the professor drafting the survey. On what grounds?
Copyright infringement.
"I was absolutely shocked," Steven Harris, a professor in the department of math and computer science, tells Daily RFT. "This is...the same sort of harassment and climate of fear that we've all been talking about."
What is SLU doing now?
See also: - Prof. Matthew Hall Criticizes Lawrence Biondi; Trustees Call Him Immature Liar - SLU Theology Chair Jay Hammond On Lawrence Biondi: "He Creates a Culture of Fear" - Dean Tom Keefe Resigns Over Offensive Remarks: "If I Was Them, I'd Fire Me"
As a quick recap, SLU has been embroiled in controversy for months now, since faculty members last year overwhelmingly voted no-confidence in Biondi, who has faced a string of high-profile resignations in direct protest of his leadership.
For the most part, Biondi has been silent on the growing dissent -- and publicly, top administrators and the board of trustees have essentially ignored the no-confidence vote. (Though in private, some board members have personally attacked those speaking out against Biondi.)
Those critical of the president, including a contingent of students, are hoping that the board of trustees will vote to remove Biondi in an upcoming May meeting.
Last week, faculty members received a survey that was intended to help the board of trustees gauge the climate on campus; it irked critics, however, in part because it only had one question that even references the president, who they say is the main source of contention in the first place.
"The intent of the climate survey is not merely to assess the climate of the university, but also to aid the trustees on what to do [at]...the May 4 meeting," Harris, president of the SLU chapter of the American Association of University Professors, tells Daily RFT. "Where are the questions on Biondi?"
So he started drafting a supplemental survey that included some additional questions specifically on Biondi.
That's when he got a harshly worded letter directly from SLU's legal counsel threatening legal action.
Continue for the full letter from SLU legal counsel and more response from critics.
(SLU spokesman Clayton Berry did not respond to a phone call and e-mail from Daily RFT yesterday.)
The e-mail from William Kauffman, SLU vice president and general counsel, to Harris says that the "Staff Survey for Saint Louis University," the "Faculty Survey for Saint Louis University," and the "Student Survey for Saint Louis University," published on March 25 are "fully protected by the United States Copyright Law." The letter, on full view below, continues:
Be aware that the copying of, use of and/or reproduction of Saint Louis university's copyrighted work is a violation of federal law. Moreover, the use of any derivative of the copyrighted works likewise constitutes an infringement of the University's rights.

Any infringement will be addressed by the University and could result in legal action. In addition to injunctive relief, other available remedies include damages (either actual or statutory) and the possibility of an award of attorney fees under federal copyright law.
All of this is in reference to Harris' planned supplemental survey to faculty, including additional questions concerning Biondi rather than the "university" in the broader sense.
"It is crystal clear that the whole point of this is suppression of the survey," says Harris, who has now filed a complaint with the American Civil Liberties Union, on view below, arguing that the letter constitutes intimidation and an attempt at suppressing free speech.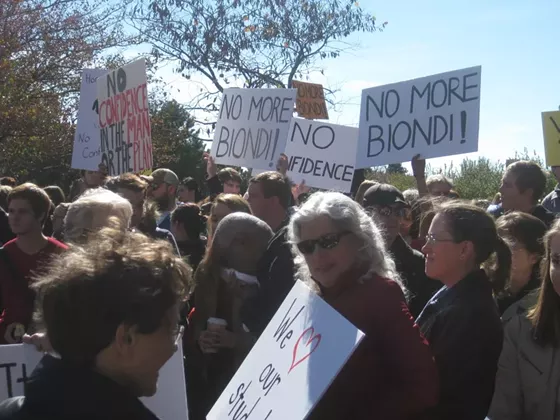 The irony, Harris points out, is that SLU officials are obviously trying to avoid bad press around a survey that reiterates the overwhelming no confidence in Biondi, but instead are earning themselves more controversial news reports on this clear intimidation tactic.
"This is not something you do lightly," he says, noting that he and all professors, via the SLU faculty manual, have protections of academic freedom.
Harris says that legal experts he has talked to say that a copyright lawsuit for a basic survey would fail, but notes that SLU could still sue him.
Either way, he'll find a way to move forward with a some form of a survey more specifically on Biondi, hopefully this week, he says.
SLU's retaliation has gotten the attention of the national office of the American Association of University Professors.
"It's stunning that the university would've gone in this direction," Robert Kreiser, senior program officer of the AAUP in Washington, D.C, tells Daily RFT. "It seems misguided and purposeless."
Here's the letter from SLU legal counsel.
Here's his request to the ACLU.
On March 28, I received a letter from William Kauffman, General Counsel of Saint Louis University, advising me concerning the copyright status of a SLU survey (on the climate of opinion at SLU) that was recently distributed to SLU faculty, and that infringement of that copyright would include use of "any derivative of the copyrighted works". Furthermore, and infringement "will be addressed by the University" and could result in legal action, including both injunctive relief and monetary damages.

The reason for his advising me of this, is that he learned (through an article in stltoday.com) of an intention I have to submit a survey to SLU faculty which I characterize as "supplemental" to the official SLU survey, on behalf of the SLU chapter of the American Association of University Professors (I am president of the chapter). Furthermore, that article led him to believe that I was considering using, for my survey, statements similar to those of the University's (for instance, changing the SLU survey questions merely by replacing "the University" with "the President").

In further discussion with Mr. Kauffman today (March 29), he explained that his understanding of derivative works of copyrighted materials potentially extends to anything I might produce in the general nature of covering the same sort of survey information, on account of my having already seen the University's survey--and not just questions with a minor difference from those of the SLU survey. Indeed, I showed Mr. Kauffman a revised set of questions, each substantively different from anything in the SLU survey, and although he found a few to be "over the line" and the balance not clearly problematic, he emphasized that this was not a definitive opinion, and that in the event of any suit, it would be up to someone else to make such judgements.

[There was a witness with me in my meeting with Mr. Kauffman. I will have to obtain that witness's permission before including name and contact, but I expect no difficulty in obtaining it.]

Although Mr. Kauffman was fervent in pointing out that he is under no instructions to pursue a suit should I send out a survey of this nature--that he was merely advising me of dangers I might not otherwise have been aware of--I feel that this does, indeed, constitute intimidation and attempt at suppression of free speech, namely, the dissemination of a survey to discover the extent of ill feelings on SLU campus towards SLU president. I think any fair reading of my revised questions--and most particularly the ones not seen as "over the line"--would have had to have given rise to the judgement, "These are clearly not infringement of copyright in any reasonable sense." This Mr. Kauffman pointedly declined to do, saying only that he was under no instructions from the University on this point, and he could make no assurance one way or the other.

Mr. Kauffman's disinclination to assure me that there is, after all, no danger of a suit (should I omit the "over the line" questions), constitutes in my mind a threat from the University, tending strongly to dissuade me from issuing a survey of this nature--even irrespective of his intent that it be so read.

------------

Desired ACLU Action:

My hope is that the ACLU would

(1) find this attempt at prior restraint of the dissemination of a survey--likely to lead to negative publicity about the University president--is in violation of norms of proper respect for freedom of speech;

(2) determine that a suit for copyright infringement in this case is so far beyond what is reasonably likely to succeed in law, that the continued threat of pressing such a suit (even after a showing of good faith on my part not to submit questions close to the SLU survey) constitutes harassment; and

(3) express such finding and determination to the University.
And here's the original survey.
SLU's Climate Committee Survey

1) Faculty members have adequate opportunities to communicate their concerns to the University.

2) Faculty representatives to the senate, institutional committees, and other representative bodies keep their constituents informed.

3) Faculty representatives to the senate, institutional committees, and other representative bodies solicit constituents' views whenever appropriate.

4) The University regularly communicates with faculty members regarding important University matters.

5) Faculty members are made aware of imminent changes proposed by the University affecting academic matters.

6) Faculty members have access to the information they need to make knowledgeable decisions on academic matters.

7) The University responds to faculty concerns.

8) The University communicates its institutional priorities clearly to the faculty.

9) What are your perceptions of communication from the University?

10) The University appreciates the contributions of faculty.

11) The University fosters an atmosphere of trust.

12) A collaborative decision-making environment exists between the faculty and the University on academic matters.

13) The Mission of the University is reflected in the day-to-day operations of the University.

14) The President is effective in leading the University.

15) Across the University, morale is high.

16) Staff and faculty work together effectively.

17) Faculty and students have effective working relationships.

18) I would recommend Saint Louis University as a good place to work.

19) What are your perceptions of the University climate?

20) The faculty has meaningful input regarding important matters related to faculty.

21) The faculty is able to express dissenting views on University matters without fear of reprisal.

22) In general, the University acts on institution-wide faculty concerns.

23) Faculty members have the resources they need to further their teaching and research endeavors.

24) The University's organizational/management structure fosters participation in academic decision making.

25) The faculty has an influential role in establishing the University's priorities.

26) What are your perceptions of faculty being heard at the University?

27) On which campus do you work primarily?

28) How long have you been employed by Saint Louis University?
Send feedback and tips to the author. Follow Sam Levin on Twitter at @SamTLevin.