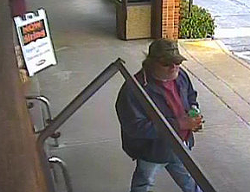 via kmov.com screenshot
The alleged owner of the "foreign substance."
What's worse -- pee in your water cooler or a "foreign substance" in your soup?
In Missouri, you apparently can try both! After last week's news that a high school girls basketball team allegedly poured urine into a rival team's water cooler, we have another similar crime story that is potentially even grosser, depending on your fear of the unknown.
Manchester police officials say they are trying to track down a suspect whom witnesses observed "intentionally" placing a "foreign substance" into a soup container at the soup/salad bar of Dierbergs Market.
Did anyone purchase the soup? Video footage below.
Here's the surveillance video Manchester police released, courtesy of KMOV (Channel 4).
According to a news release, full report below, the Manchester Police Department and the St. Louis office of the Federal Bureau of Investigation are now investigating the March 28 incident at Dierbergs Market, which is located at 421 Lafayette Center in west St. Louis County. The placement of the foreign substance took place around 4:15 p.m. and officials say the suspect is a white male with a heavy build and a light beard between the ages 50 to 60.
Witnesses told employees about the substance and they quickly removed the soup container, police say.
No member of the public purchased the item, the release adds.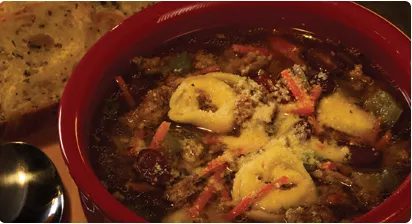 via dierbergs.com
Example of Dierbergs soup (not the one in question).
Anyone who recognizes the man is encouraged to call the Manchester Police Department at 636-227-1410 or CrimeStoppers at 314-725-8477.
Here's the full announcement.
Send feedback and tips to the author. Follow Sam Levin on Twitter at @SamTLevin.