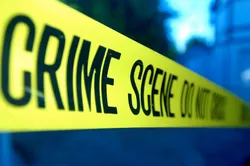 Update: St. Louis metro police have just released the identity of a woman who was found strangled to death in an alleyway this week. Our original coverage is below.
47-year-old Aretha Robinson, who lived on the 4500 block of Natural Bridge Avenue, is the homicide victim who was abandoned on South Jefferson Avenue and found Monday morning, officials say.
As we reported earlier, police had a person of interest that was in custody -- but that individual has since been released and no charges have been filed.
Original post, 6 a.m.: The latest homicide victim in St. Louis is a woman who police found strangled to death lying in an alleyway.
The woman is a 47-year-old black female who police have identified, but as of late yesterday have not disclosed her name, pending family notification.
There is a person of interest in custody -- whose identity is also undisclosed at this time.
This woman is the 27th homicide victim of the year.
Yesterday morning, metro police labeled her passing a "suspicious sudden death," but after further investigation determined it was a homicide.
Police say she was found in an alleyway on the 2200 block of South Jefferson Avenue.
Beyond those few details, there's little known about this woman and how she ended up abandoned in this alleyway after she was allegedly strangled to death.
We'll update if and when the Circuit Attorney's Office files formal charges.
Here's the original police alert.
Incident: Suspicious Sudden Death Location: 2200 block of S. Jefferson Dates/Time: 3/31/13 @ 08:15 Victim(s): 47-year old black female Suspect(s): Unknown Officers responded to a call for an unknown female body found in an alleyway at the above location. The investigation is ongoing. Cause of death is unknown pending autopsy results.
Send feedback and tips to the author. Follow Sam Levin on Twitter at @SamTLevin.