Update: See photos from soccer at Busch Stadium.
---
The teams face off at 7:30 p.m., May 23rd at Busch Stadium.
Lately, the Premiership, or the Barclay's Premier League, or just the Premier League, has been called the world's "top league" -- mostly by players coming into the British league from France, Germany, Spain and yes, the United States. That's because in the twenty-team Premier League, play is faster, there are more games in quicker succession (they don't take the traditional Christmas holiday break) and, it's by far one of the most physical soccer leagues in the world.
On May 23, two of the league's top teams -- Manchester City and Chelsea F.C. -- are going to play an exhibition game at Busch Stadium. Here's why you should care about it.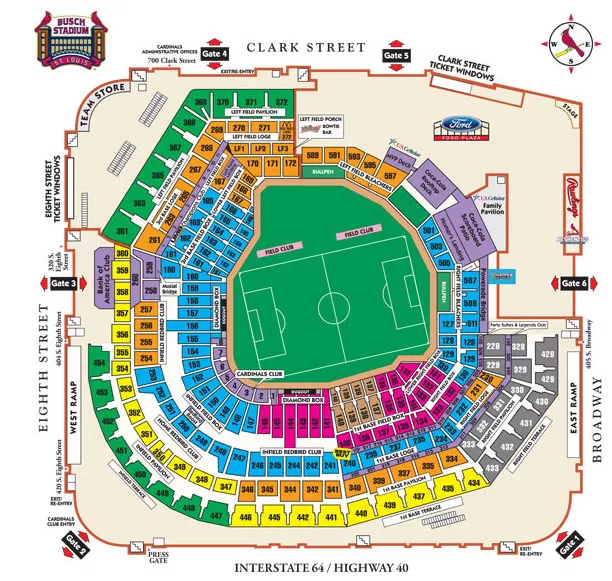 Both teams have new, ultra-wealthy ownership -- City's Abu Dhabi-born Sheikh Mansour bin Zayed Al Nahyan took the reigns in 2008 and Chelsea's Roman Abramovich, the Russian oil-and-gas tycoon with alleged sketchy business dealings, took control of Chelsea in 2003.
Because of the fire hose of cash that's been sprayed at both teams for several seasons now, they are the target of resentment from the rest of English football, and for good reason. No one likes a team who buys victories, especially not St. Louisans, proud of our farm system and player development.
So why are the teams coming to the U.S.?
Each summer, many Premiership teams go on international tours -- Arsenal to China in 2012, Chelsea to the U.S. last year, Welsh team Swansea also to the States, and so on.
"We are honored to host this historic match," said Bill DeWitt III, President of the Cardinals in a statement on Friday. "This is a wonderful opportunity for St. Louisans to see some of the best soccer players in the world."
Here are Five Things You Should Know about these games:
Chelsea midfielder and Spanish national team player Juan Mata is having a break-out season for Chelsea since coming over last season.
5. Don't expect a full line-up of stars from each team. You will see many familiar faces, but not all of them. For whatever reason -- holidays in Dubai, international commitments, seniority or contractual reasons -- expect to miss a few players you'd hope to see. The rosters for the tours are usually announced a few weeks ahead of the tour.
4. These games are generally a jog. Like the NFL Pro-Bowl or the NBA All-Star game, the competition here just is not going to be what you'd expect in the stretch run any Premier League season, when teams are vying for the either a spot near the top or a spot that's not going to relegate them to a lower division. Few players will risk getting hurt over an exhibition game in St. Louis. However! If a new player makes an impact for either team, that could very well help his chances in making it to the first team when the season begins in late August.
3. This game should be worth your money These exhibitions are still a spectacle. While the pace of the game may look like an MLS-level training session, you're still going to see some of the best players in the world show off their skills. Think of it like this: This game will be like seeing vintage Pujols during spring training. He's just warming up for what's ahead, but still flashing a little brilliance. For decades, St. Louis was known as a "soccer-mad" city -- some of the truth of that old cliche may shake out in the attendance.
2. Do these teams hate each other? As storied rivalries go, no they do not. Chelsea's based in London, more than 200 miles south of Manchester, and approximately a million football clubs are located between the two. You will find the heated rivalries locally (like the Yankess-of-England Manchester United vs. their "noisy neighbors" City.) Instead, think of this game as the battle of the Big Money Teams, looking to expand their global brand. The local example of a global branding attempt would be the P.R. failure of Stan Kroenke's Rams playing the Patriots in London back in October. Then, those Rams visited with Kroenke's Premier League team, Arsenal.
1. Do I refer to this as a soccer or football game? You are in America. We call it soccer. Calling it "football" anywhere near the stadium should and hopefully will get you beat up. In the rest of the world, vice-versa.
There's no guarantee any of the top players will make an appearance at Busch, but on the next page is a quick rundown of who to look for -- and a few memorable videos.
City Heroes -- Edin Džeko (striker) came into the spotlight as a super-sub early and midway through the season, scoring goals late in matches, making him a fantasy blue chip. He earned a starting spot this year because of his consistently great play. Should be one to watch.
-- Joe Hart (goalkeeper) is also the English national team's goalie. Despite some poor play recently, Hart's one of the best in the world and also worth watching.
City Villains -- Oasis. The Gallagher brothers are big supporters and if you're unlucky enough to be in a bar after a City win, some earnest guy will surely put on "Wonderwall," giving you reason to leave. While they don't play on the field, their music has punished millions of ears.
-- After the departure of Mario Balotelli to Milan (maybe one of the most entertaining anti-heroes in the sport, see above video) French player Samir Nasri could be considered a villain after jumping ship from Arsenal for more money up north. Nasri's also a fiery player.
Chelsea Heroes -- Frank Lampard. He's 34, played the bulk of his career for Chelsea F.C. and the fans have taken to calling "Super Frank" and for good reason: When the aforementioned Abramovich was all but announcing he would move Lampard during the summer 2013 transfer window, the Englishman responded by scoring several clutch goals in early 2013. One to watch -- if he's still on the blues by May.
-- Juan Mata. The midfielder's vision in passing and dead-ball experience is just incredible. He's a fun player to watch and has appeared to stay out of trouble since coming to England from Spanish side Valencia.
Chelsea Villains -- Eden Hazard. He kicked a ballboy who was on the ground during a game at Swansea this season. Whoops!
-- John Terry. Where to begin? The allegations of racism, or extramarital affairs or just dirty play? We'll let you find those out yourself.
-- Fernando Torres: This fancy-looking blonde Spaniard -- a member of its national team -- was a prolific goal-scorer while at Liverpool (65 goals from '07 to '11), but hasn't repeated that run of play in two years at Chelsea. The rumor mill had him leaving the club this summer, after striker Demba Ba was signed from Newcastle during the January transfer window. Torres a villain because he just doesn't convert opportunities into wins and we all hate that.
If you're looking to catch City or Chelsea play before they get to Busch, you can watch either team play Saturday:
10 a.m. Saturday - Manchester City vs. Newcastle United (FOX Soccer Channel) City's at home and is expected to win this game.
10 a.m. Saturday - Southampton vs. Chelsea (FOX Soccer 2 Go) Chelsea's on the road against Southhampton and the way they've been playing under hated manager Rafa Benitez (who you likely will not see in May), this game could easily result in an upset for Southapton. Chelsea should win, though.
---
Follow the author on Twitter at @nicklucchesi