Mike Bizelli
Newton County puppy mill in 2009. More photos below.
From the puppy dragged a mile on the highway to tens of thousands of neglected chickens, photographer Mike Bizelli has seen a lot of horrifying sights of animal abuse in Missouri.
"There is cruelty out there," he says, "but then there's great compassion." The compassion, he says, comes in the forms of the volunteers and professionals who rescue and adopt abused animals all across the state -- something that Bizelli has documented for more than a decade with the Humane Society of Missouri.
Bizelli, a freelance photographer with the organization, is showcasing his stunning photos in an art exhibit next week and gave Daily RFT a sneak peek at some of the images and the stories behind them. Photos on view below.
From Trooper to Sonny to Twister to Tumbleweed to Marshall the Miracle Dog, Bizelli, the 62-year-old Overland resident, has photographed a lot of famous cases of animal abuse in the state over the last fifteen years.
All photos by Mike Bizelli
Rescued puppy mill pup getting a bath at HSMO headquarters in St. Louis in 2009.
He's tagged along to puppy mill busts, rescues from hoarders, poisonous snake roundups -- and much more.
"The conditions can be pretty awful," he tells Daily RFT.
He never quite knew what to expect when he first start shooting for the organization. At the puppy mills, for example, he says, "I thought there were going to be mean little dogs trying to bite you, but that was not the case at all. These dogs were pleading to get out of there."
On another job, he says, "It was muddy and there were dead chickens laying all over.... The chickens had nothing to eat."
Dr. Julie Brinker, veterinarian at HSMO, checking out a victim of the Joplin tornado in May 2011.
As important as it to document this neglect and abuse -- and the photos he takes can be used for evidence -- it's also important for him to capture the moments of rescue, adoption and recovery, he says.
"There's this great awe factor...when you see people with these animals," he says. "It's definitely emotional."
The photo exhibit will run April 5 (5-9 p.m.), 6 (10 a.m.-5 p.m) and 7 (noon-4 p.m.) at the Humane Society of Missouri headquarters lecture hall at 1201 Macklind Avenue. Admission is $10, online at bizelliphotography.com or at the door.
Continue for more photos and stories from Bizelli's work.
All images below taken by Bizelli, with his captions.
This is Dr. Melinda Fleming, veterinarian at HSMO in Ste. Genevieve County, on August 30, 2006. There were an estimated 10,000 chickens at this egg laying operation. HSMO was there to assist the sheriff serving a warrant to inspect, care for or impound animals believed to be neglected or abused. HSMO removed a suffering calf and a few chickens. Authorities deemed the operation unsafe and it was eventually closed.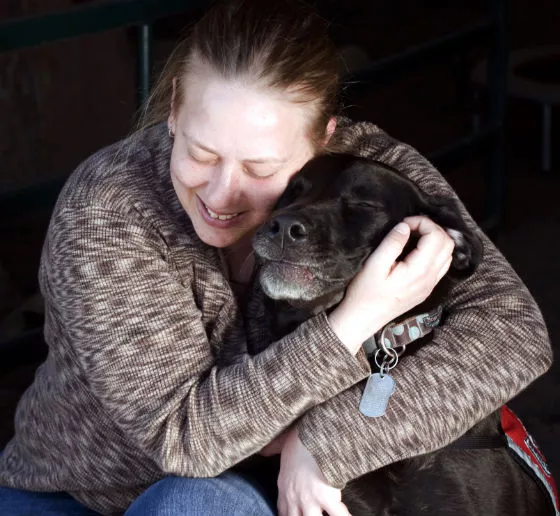 This is Angela Peacock with her therapy dog, G.I. Joe. Angela is an Iraqi war veteran who came home in 2003 with PTSD and arthritis. "I would not be alive and thriving today without G.I. Joe," said Angela. "Before G.I. Joe, I never left the house except for food or doctor's appointments. Now I'm a college student with a 4.0 GPA. I rely on him instead of multiple medications. We're bonded for life," she said.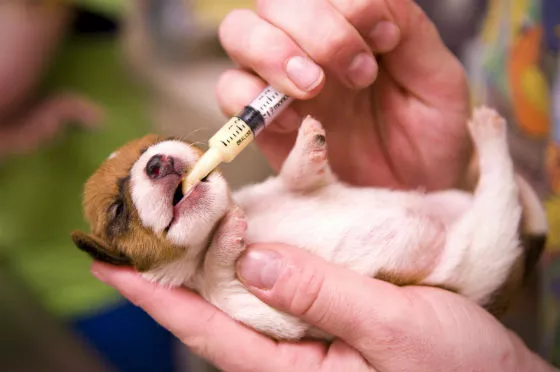 This days-old puppy gets treatment in triage at HSMO headquarters in St. Louis after being rescued from a Phelps County puppy mill in Sept. 2009.
This is Walter, a Barn Buddy, at Longmeadow Rescue Ranch near Union, MO, on Feb. 10, 2011. Longmeadow is a 165 acre refuge for rescued farm animals. Barn Buddies live permanently there playing leading roles in HSMO's humane education program.
Continue for more photos and stories.
This is Craig Frederickson, of Florissant, with Bear at the Maryland Heights Center on Feb. 11, 2010. Craig was there to pick up Bear as a Valentine's Day present for his wife. She had fallen in love with Bear on earlier visits.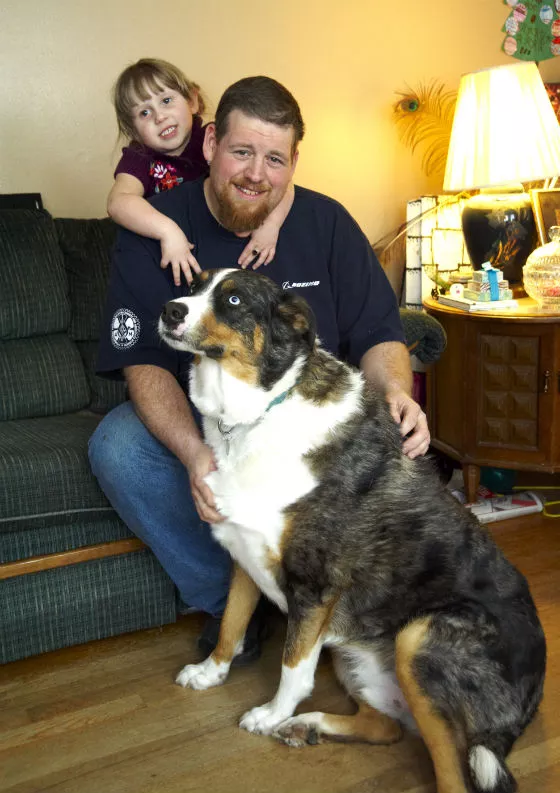 This is Craig Frederickson, daughter Erika, 3, and Bear on Jan. 24, 2013. "He's a good, good boy. He owns the couch," Craig said. Bear weighs in at 120 pounds.
Bark in the Park is the largest dog walk and festival in the Midwest-hosting more than 5000 participants. This is the start of the 2008 Bark in the Park parade in Forest Park.
This shot was taken in Vernon County, MO, Jan.6, 2012. Tumbleweed was near death because of malnourishment. She was 130 pounds underweight. HSMO Animal Cruelty Task Force members and sheriff's deputies put her on a sled-like apparatus called a glide then on to a horse trailer where she went to an emergency equine center in St. Charles County. She spent several weeks there, then to Longmeadow Rescue Ranch where she is thriving. I have many shots of Tumbleweed for the exhibit. The other 15 horses and two donkeys were taken to Longmeadow that day.
Continue for more photos and stories.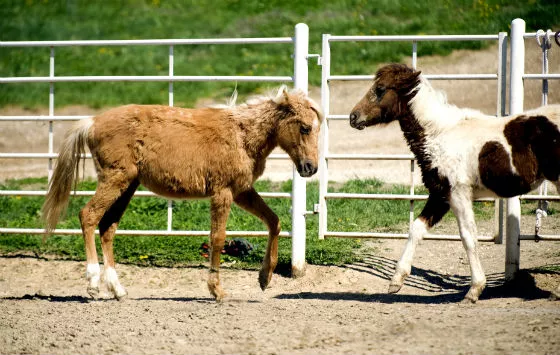 Tumbleweed on the rebound at Longmeadow on March 27, 2012.
Here she is with Ocho at Longmeadow on Aug. 27, 2012.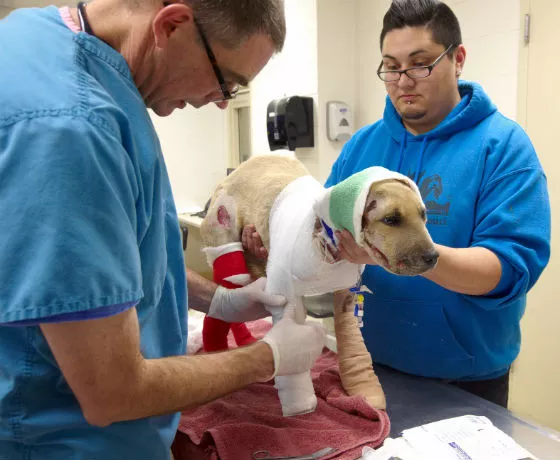 Here is Trooper five days after he was dragged. Dr. Mark Wright, HSMO veterinarian and emergency room tech Jason Lementino on Nov. 26, 2012, perform the procedure.
Continue for more photos and stories.
Trooper takes a walk in his surgical pajamas after a laser treatment on Jan4, 2013, at HSMO headquarters on Macklind.
Trooper playing tug-of-war with HSMO Director of Events Shana Cook at HSMO offices on Macklind, Jan. 31, 2013.
Here's Trooper being introduced to Tumbleweed by Longmeadow Rescue Ranch supervisor Jessica Lindley on Feb. 25, 2013. Jessica is fostering Trooper until a permanent home can be found.
Send feedback and tips to the author. Follow Sam Levin on Twitter at @SamTLevin.