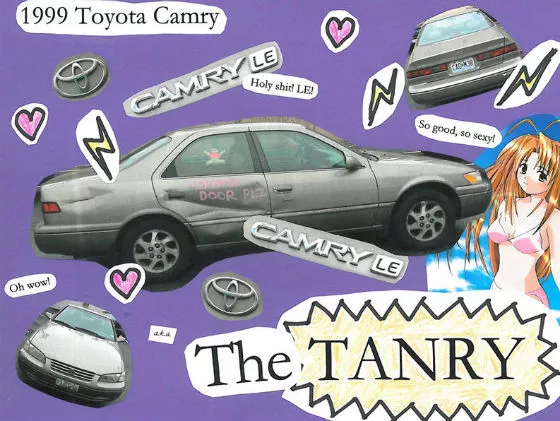 via Craigslist
Who WOULDN'T want this car?
This might be our most favorite Craigslist advertisement...ever.
"If I just posted a sad little picture with a description, no one was going to pay attention," Nate Walsh, the 28-year-old genius selling his very used car, tells Daily RFT. "I needed it to be as flashy as possible."
So he friggin' went all out. (Side note, Craigslist keeps flaggin' the darn thing -- but, fear not, we've got screenshots below for you).
See also: - What Happens When You Search for Your Baby's Father on St. Louis Craigslist? - Five St. Louisans Just Trying to Get Laid Before the End of the World - Photos: St. Louis Family of Eight Ducks Looking for Help on Craigslist
"It is mildly offensive across the board," says Walsh, who works in advertising and lives in Tower Grove.
He first posted the advertisement last week with more than ten hilarious handmade images about the car and his experiences in it, but then it got flagged and taken down. It was back up yesterday when Daily RFT grabbed some screengrabs, but appears down yet again, as of this writing.
Walsh says he's selling the 1999 Toyota Camry because he's moving to San Francisco and doesn't need a car anymore.
But, as you can see from his collages, the vehicle, which he has had for five years, means a lot to him, and he doesn't want just any rando to buy it.
"The ad pretty much covers all the intense feelings I have for it," says Walsh, who grew up in Illinois and has lived in St. Louis for about five years.
"I came up with the idea [to make an ad]...like a drunken second-grader art collage," he jokes, noting that he did all of the art by hand and scanned it.
The ad has made the rounds -- and he's getting interest from all over the country.
"Right now, my phone keeps buzzing," he says in a phone conversation yesterday.
Walsh says he's thinking some sort of grand competition between prospective buyers would be awesome -- but it's just an idea.
"I do have a fair amount of people interested," he says. "But right now, I'm trying to hold out for...somebody that's really going to appreciate the oddities of the car."
Continue for the rest of the ad in all of its glory.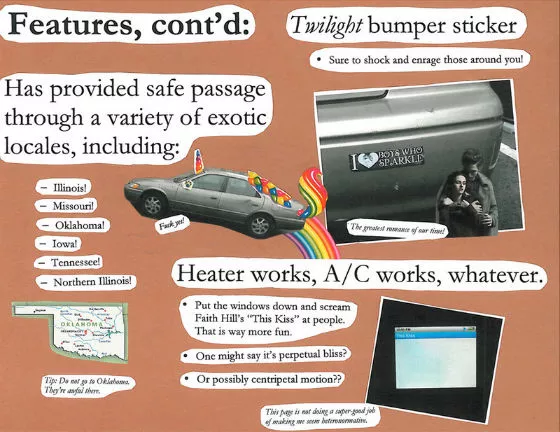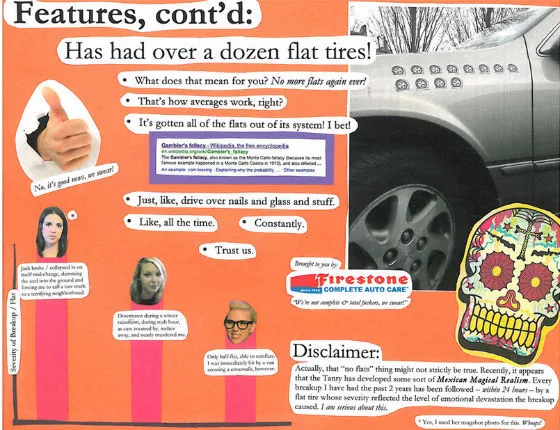 Continue for the rest of the ad.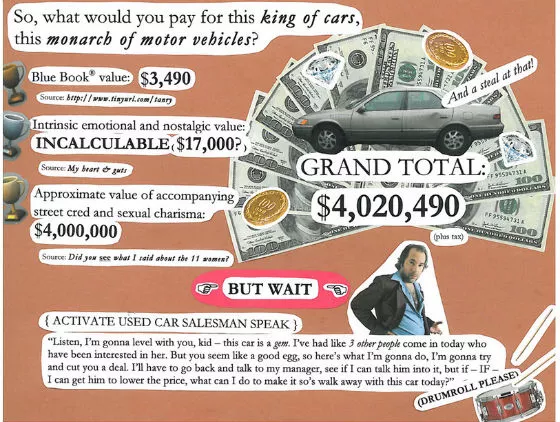 Send feedback and tips to the author. Follow Sam Levin on Twitter at @SamTLevin.