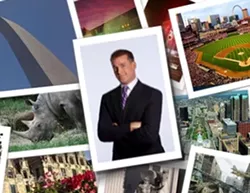 With the primary elections in St. Louis past, there's been very little talk about the upcoming general election next week -- especially when it comes to the local board of aldermen races. In the Seventh Ward, however, the long-time incumbent Alderwoman Phyllis Young has a Green Party opponent who is running a real campaign.
Only problem is, he's a Tea Partier in disguise. At least those are the allegations of the Seventh Ward Independent Democrats, which has accused candidate David Brent Gordon of not really being a Green Party guy -- and has also filed ethics complaints against him related to campaign finance.
"I'll put my alderwoman up against anybody when it comes to green issues," Seventh Ward Democratic Committeewoman Marie Ceselski tells Daily RFT. "But there's nothing Green Party about this guy."
Gordon's campaign, however, says the Tea Party accusations are wrong and unfounded -- and says they have responded to and addressed all finance complaints.
Ceselski says she is trying to spread the word about the opponent's Tea Party background, so that voters know the truth about him:
Her only concrete proof, however, about his Tea Party ties appears to be a bunch of likes on Gordon's Facebook page, which is private. Those likes, which are visible, include Glen Beck, Sarah Palin, Paul Ryan, the St. Louis Tea Party, etc. Here's a screenshot: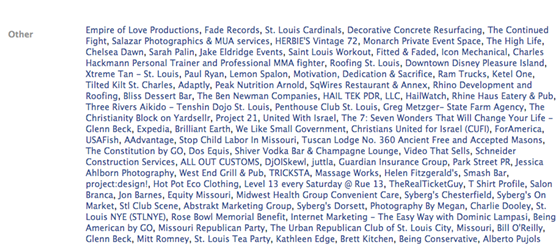 "He's flying below the radar," says Ceselski. "But you don't want to underestimate anybody."
She says that his campaign website makes very little mention of Green Party issues, beyond very basic talking points.
"It's word salad," she says.
And Ceselski has also filed complaints against him with the Missouri Ethics Commission, saying his campaign has made a series of errors -- not properly disclosing the treasurer's name on printed materials, failing to file required reports, failing to report receipts and failing to report expenditures.
Continue for the rebuttal from the Gordon campaign.
In response to the Tea Party accusations, Michael Katz, who is running Gordon's campaign, tells Daily RFT, "Not in a million years. That's the biggest farce in the world."
He says that Gordon, who is 32 years old and owns a roofing and home development business, is not a fan of labels or political parties in general, but did decide to run as a Green Party candidate. He agrees with some, but not all, of the party's platform, Katz says.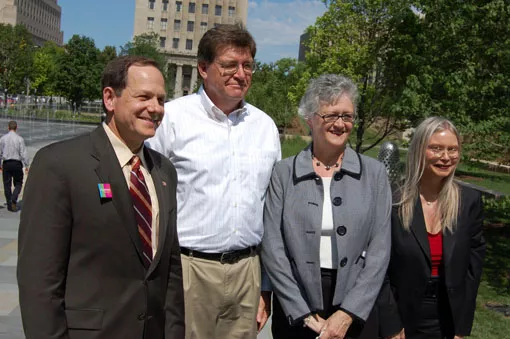 Photo by Nick Lucchesi
Mayor Francis Slay with Alderwoman Phyllis Young
As per the Facebook likes, Katz says, "He's very invested in following all politics."
Katz says that Gordon is interested in increasing efficiency and that's why he supports the Green Party.
"It's really utilizing resources well," he says. "It's trying to be efficient with what you have."
He adds, "Every commonsense approach...that's what our candidacy is about."
Katz says of his opponent, "After 24 years, they've got somebody legitimately running against them and they're scrambling."
Some of the ethics complaints against him were misunderstandings and others were legitimate mistakes that they have corrected, he says.
"They're doing their job," he says of the opponents filing complaints against him, but adds, "The job should be a little bit more [directed]...to the greater good of the people."
Still, he says, "If you want to point out something, we are going to address it."
Send feedback and tips to the author. Follow Sam Levin on Twitter at @SamTLevin.