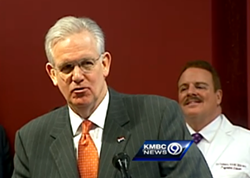 With the United States Supreme Court considering gay marriage this week, people across the country are talking about the issue of marriage equality. But not Governor Jay Nixon.
Questioned about it at a press conference yesterday -- just two days after Senator Claire McCaskill publicly stated her support for gay marriage for the first time -- Nixon, a Democrat, had nothing to say.
He dodged several questions on the topic at a Liberty event promoting the expansion of Medicaid and when Daily RFT followed up with his office afterward, his staff reiterated the no comment.
See also: - Claire McCaskill Supports Gay Marriage: "History Will Agree With My Children" - ACLU Fights Missouri to Get Benefits for Same-Sex Spouse of Killed Trooper - Fired For Being Gay: Missouri Website Promotes Nondiscrimination Bills, GOP Support
The report comes from KMBC political reporter Micheal Mahoney.
He asked Nixon if he thought people in Missouri, where voters banned gay marriage back in 2004, have "moved" on the issue. The governor offered this reply:
I wouldn't speak about whether Missourians are moving or not, although I do talk to a lot of them. I would only say that in the setting we're in right now, there's going to be plenty of time to look at what to discuss on that issue in the future.
But have his views "moved?"
"I wouldn't use that word," Nixon answered.
"Move? Evolve? What word would you use?" the reporter asked.
Nixon continued, "I would use the word that, that today's event was about something, about this, and my focus over the next six weeks in this legislative session is on this topic."
Daily RFT asked Nixon's press secretary yesterday afternoon if the office had anything additional to say or if the governor planned on taking a stance on the issue. He replied: "The Governor gave his answer in an extemporaneous setting, so there's no other comment on the matter."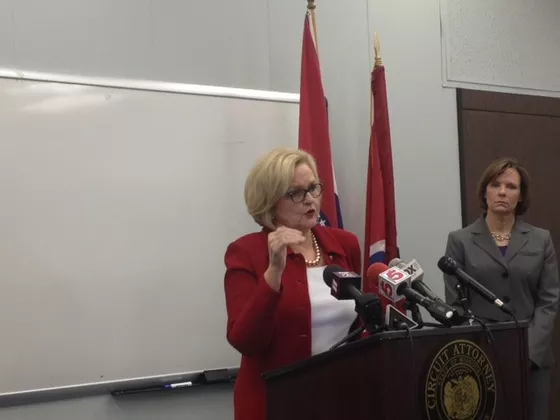 Sam Levin
Claire McCaskill
Asked about it last year, Nixon said: "I have not supported gay marriage in the past and don't at this point. I don't anticipate much legislative activity in that area."
In addition to the attention surround the Supreme Court case, same-sex marriage debates were pushed into the forefront this month when Rob Portman, a Republican senator from Ohio, declared his support.
Send feedback and tips to the author. Follow Sam Levin on Twitter at @SamTLevin.