via YouTube
Republican Rep. Anne Zerr expresses support for non-discrimination bill.
LGBT advocates in Missouri launched a website today designed to promote anti-discrimination bills at the legislature -- and the support these proposals are now getting from a select group of Republican lawmakers.
Progress Missouri and PROMO, the statewide gay rights group, chose a clear message: FiredForBeingGay.com.
"Our goal is very simple -- to raise awareness...that you can be fired in Missouri for being gay," Sean Soendker Nicholson, Progress Missouri executive director, tells Daily RFT. "We don't have basic anti-discrimination protections."
Will the measures at the Capitol be successful this year?
The proposals in question are House Bill 615 and Senate Bill 96. If passed, these measures would formally prohibit discrimination based on sexual orientation and gender identity in employment, housing and public accommodations. Ten Missouri cities have these kinds of ordinances in place and 21 states across the country have passed similar laws.
The concept has been introduced for several years in Missouri, but this is the first time it's getting noteworthy Republican support, Nicholson says.
Screenshot of new website.
"The list of co-sponsors continues to grow dramatically," he says.
At this point, there are five Republican co-sponsors of the measures, which have not yet gotten hearings in the House or the Senate.
Still, Nicholson says, "People are pretty optimistic for passage."
He adds of current laws lacking these protections, "People are appalled."
Here's a video from Republican Representative Anne Zerr expressing her support.
Continue for more from on FiredForBeingGay.com and the Republican supporters.
At this time, there are no GOP supporters of this measure in the Senate. In the House, these five have signed on: Kevin Engler, Sheila Solon, Noel Torpey, Nate Walker and Anne Zerr.
Below is some more media from the new website.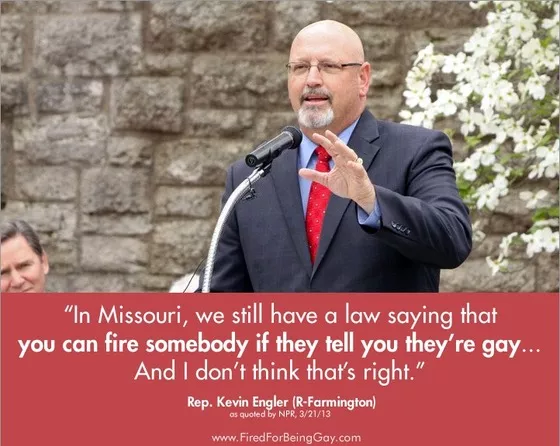 And here are drafts of the house and senate bills in question.
Send feedback and tips to the author. Follow Sam Levin on Twitter at @SamTLevin.