Sometimes it takes an event like Wizard World Comic Con to prove that "nerd" doesn't necessarily mean "dork" nowadays.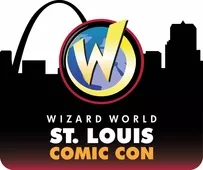 Tens of thousands of people swarmed the America's Center this weekend for St. Louis' first-ever Comic Con, a three-day event celebrating pop culture and science fiction. The event -- in which both hardcore nerds and casual fans interact with high-profile actors, artists and writers -- was so popular that Wizard World has already announced plans to return in 2014, with AMC's The Walking Dead stars Norman Reedus and Michael Rooker confirmed to appear.
"The response from St. Louis has been overwhelming," says Jerry Milani, PR manager for Wizard World. "Wizard World was immediately embraced by the fans and the city. The costume contest last night was off-the-charts unbelievable and already rivals the participation we've had in cities where we've held events for years."
Below, we share A-to-Z highlights of the Lou's new favorite convention. Because of St. Louis' high turnout, we're now assuming you know your Harry Potter spells and X-Men origins, unlike in last week's non-nerd guide to the event. Try to keep up.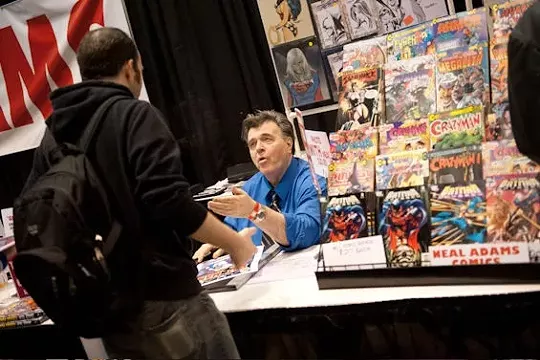 Jon Gitchoff
Comic-book author Neal Adams was just one of the big names at Wizard World.
Award Winner -- Neal Adams, Eisner Hall of Fame and Kirby Hall of Fame winner, was a huge draw as he signed fans' X-Men, Batman and Green Lantern issues. We caught him enjoying some nachos at his booth late Saturday. Adams' booth number, appropriately, was 314.
Jon Gitchoff
Yes, there were sexy costumes!
Boobs -- These were everywhere, as the ladies disproved the notion that nerd stuff is only for guys. We spotted women in elaborate TARDIS dresses and Link tunics buying comics, hats and lightsabers. See slideshow: The women of St. Louis Comic Con
Comic Books -- More than 85 writers, illustrators and letterers were on hand to chat with fans about their work, and about a dozen comic-book collectors had booths to showcase their collectible editions and hawk their more pedestrian wares. St. Louisan Adron Buske, writer and co-creator of the Web comic Loop & Hoodie, said that Wizard World's focus on all things nerdy -- not just comic books -- was good exposure for his team. "It brings in a diverse audience," Buske said. "For us, it's awesome because we can reach people who might not normally go to cons."
Doctor Who -- 2013 marks the 50th anniversary of the popular sci-fi show, so naturally Wizard World allotted quite a bit of programming and booth space to the series. During one panel discussion with show insiders and bloggers, fans were curious about the 8th Doctor ("He couldn't help it; he got a shitty movie.") and if the current Doctor would change soon. (Speculation is that Matt Smith will be leaving at the end of this season or after the Christmas special.) Fans also learned that one of the panelists was commissioned to paint a portable toilet like a TARDIS.
Excelsior -- Get to know this regular phrase for Stan Lee, Marvel Comics' biggest name and mastermind behind Spider-Man, X-Men, Daredevil and other major titles. Lee was the draw at the convention, holding court in a packed Q&A session and being promised that his signature on a man's forearm immediately would be turned into a tattoo.
Jon Gitchoff
Any day is a happy one when the Fonz is in the house.
Fonzie -- St. Louis welcomed Henry Winkler with his Happy Days character's signature "Aaaaayyyy." During his hilarious Q&A, Winkler shared that his Jewish parents called him dumme hund (German for "dumb dog"), he doesn't mind being associated with "jumping the shark" because when he filmed the waterski episode "I had great legs," and Adam Sandler surprisingly is one of the smartest men he's ever worked with. Winkler hardly stayed behind his autograph table, preferring instead to pop fans' personal space bubbles and give hugs.
Ghostbusters -- A ton of regular cosplayers represented Peter, Ray, Egon and Winston from the 1984 movie, but one group went well beyond that. The Greater St. Louis Ghostbusters is an organization that promotes fandom in the Midwest by replicating props and uniforms from the movie. The group manned a booth at Wizard World (complete with PKE meter and Stay Puft Marshmallow Man) to advertise Ecto-Con, its convention built around programming for Ghostbusters enthusiasts.
Hogwarts -- Tom Felton, who played Harry Potter's nemesis Draco Malfoy in the HP films, was one of the most enthusiastic and accessible stars at Wizard World, holding several autograph sessions and a crowded Q&A session. Some teen girls literally shook and cried after being in the same room with their long-time crush. We spotted plenty of Harry, Ron and Hermoine costumes, proving that Harry Potter mania isn't slowing down even fifteen years after the first book's release.
Joss Whedon -- The man behind Buffy the Vampire Slayer, Dr. Horrible's Sing-Along Blog and The Avengers wasn't around, but plenty of his stars were. Juliet Landau (Drusilla on Buffy), Morena Baccarin (Inara on Firefly and Serenity and Jessica on Homeland) and James Marsters (Spike on Buffy and Angel) all were on hand to share their admiration of one of the industry's nerdiest writers and directors.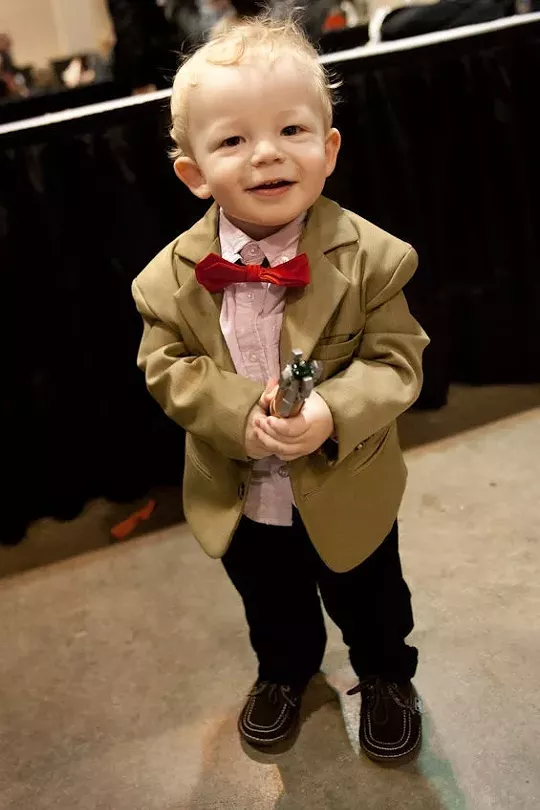 Jon Gitchoff
He'll blame his parents later. For now, he's adorable.
Kids -- Children ten and under took full advantage of their free admission to Wizard World, dressing as their favorite superheroes and enjoying their own special programming. And it looks like Batman may soon topple Taylor Swift for the attention of the Disney crowd. The caped crusader was among favorite heroes most mentioned by the kids we talked to -- in good company with Spider-Man, Rapunzel and Captain America.
Lou Ferrigno -- The former bodybuilder and The Incredible Hulk star happily signed autographs and entertained children during the con. "My favorite part of this weekend was meeting Lou Ferrigno," said Robby Shelsky, fifteen, of Waterloo, Illinois. "I shook his hand, and it was freaking huge!"
Marsters, James -- The Buffy and Smallville alum was jovial during his Q&A with fans and answered a slew of interesting queries. He told stories of old British ladies pinching his ass, striving for Brainiac's maniacal glee, distaste for Twilight-type vampires and pride in "Once More with Feeling," the musical episode of Buffy. He also suggested that Spike and Angel got it on at least once in the past two centuries, much to the audience's ecstasy.
Night's Watch -- We didn't spy any members of the brotherhood who guard the Wall, but we still saw ample cosplay for HBO's Game of Thrones. Daenerys Targaryen and one of her dragons, Robb Stark and Cersei Lannister all made appearances in elaborate costumes.
Photos -- From structured celebrity photo ops to the "Ohmygod, I love your costume! Can I take your picture?" shrieks in the aisles, cameras were everywhere. We experienced the phenomenon firsthand when we couldn't take five steps in our Sue Storm, Wonder Woman and Pikachu costumes without being besieged by amateur paparazzi.
Regional artists -- The St. Louis area is a surprisingly huge hotbed of nerdy talent, and much of it was on display at the con. Cullen Bunn (writer for The Sixth Gun, The Fearless Defenders and Superman/Batman: Sorcerer Kings), Brian Hurtt (artist for The Damned and The Sixth Gun), Chris Samnee (artist for Daredevil, Captain America & Bucky and Ultimate Spider-Man), Matt Kindt (writer and artist for MIND MGMT and Pistolwhip, and the guy who we think gave us a granola bar when we loudly complained about being hungry) and the men behind Loop & Hoodie (writer Adron Buske, artist Dan Cassity and colorist Travis Nuckolls) all had crowded booths. We also found Josh Coppenbarger, director for the upcoming documentary Heroes, Villains and and Arch: The Comic Book Culture of St. Louis, who was excited by the con's turnout. "St. Louis is a comic-book community that doesn't yet know it's a community," Coppenbarger said.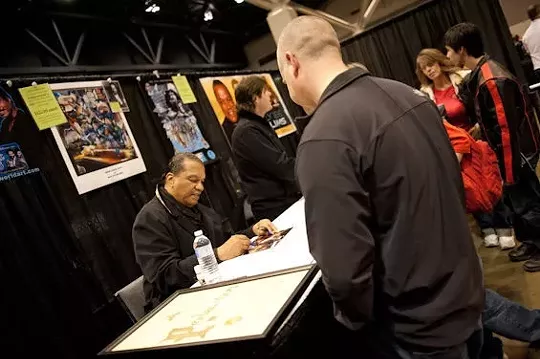 Jon Gitchoff
Lando Calrissian, a.k.a. Billy Dee Williams.
Star Wars -- It looks like the Dark Side may triumph after all, as we saw more cosplay for Darth Vader, Stormtroopers, Darth Maul and Jabba the Hutt than we did for Luke, Leia, Han or Lando. Speaking of Lando, actor Billy Dee Williams was amiable during autograph and Q&A sessions, joking with a friend of ours that he hated the photo that he was about to sign. And Williams apparently has a sweet tooth; Jody Hensley, the "mom" behind St. Louis-based gourmet pretzel company Mom's Originals, said Williams sampled a chocolate-covered pretzel at her booth and then ordered a dozen to go.
Toys -- Every action figure, weapon and plush you could possibly desire was here. Need a stuffed Dalek? An operational lightsaber? A blacklight poster of He-Man? It was all for sale.
Vampires -- We didn't see any traditional Bram Stoker-type vamps around, but we caught plenty of fanged ones with a goth or punk aesthetic. Thankfully, there were no lame Edward Cullens sparkling about.
Wrestlers and warriors -- Because Wizard World crosses many genres, attendees were treated to a bit more than just the sci-fi stuff they may have expected. Legendary wrestlers Randy Orton and Brimstone and martial artist Jason David Frank ("Green Ranger" on Mighty Morphin Power Rangers) all interacted with fans and answered questions about their craft.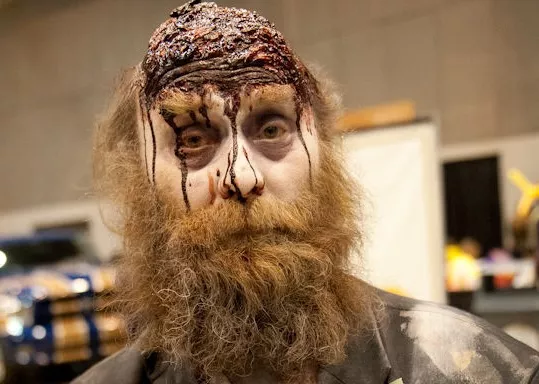 Zombies -- The Walking Dead comic-book series and TV show got the royal treatment. Laurie Holden, who plays Andrea on the show, met with fans in Q&A and autograph sessions, while artist Arthur Suydam signed his variant cover of The Walking Dead #1, a St. Louis Comic Con exclusive. We also spotted Michonne dragging her zombies around the floor, and the local chapter of the national Zombie Squad led a seminar on disaster preparedness. "We try to educate people in a funny way that's not boring," said Chris Bellers, chapter president.