Ask your nerd friend to identify these awesome people for you.
Do you hear that -- that low hum of anticipation emanating from comic-book shops and Risk tournaments throughout St. Louis? That's the sound of every nerdstuff enthusiast 'gasming as they prepare for Wizard World St. Louis Comic Con, which takes place Friday, March 22, through Sunday, March 24, at America's Center. The event will be a cornucopia of sci-fi and fantasy celebrities, workshops, costumes, collectibles and more.
Yep, it's pretty much every fanboy or fangirl's wet dream.
See also:
- Hungry Nerd's Restaurant Guide to Wizard World Comic Con St. Louis
Wizard World might be a lot for a Muggle like yourself to take in, though. If you don't know Marvel from DC or have no clue how Buffy shared her vampire-slaying powers with thousands of teenage girls, would you even be able to enjoy an event like this? That's the question many of you will be asking as your nerdy spouses and friends coerce you into going to the three-day convention. Luckily, we've got a survival guide for you.
The Basics
Lando's not a system. He's a man. And he'll be at Wizard World.
What is this thing, really? It's everything we mentioned above and then some. Dozens of top actors, writers and artists from the television, film, online, comic-book, video-game and toy industries will be talking to fans, giving presentations and signing autographs. There also will be games, giveaways, photo ops, rare collectibles, on-site illustrations and more.
Where did it come from? The event has roots in Wizard, a comic-book pricing guide and pop-culture magazine. Its parent company, Wizard World Entertainment, began hosting conventions in the late '90s, and its cons are now held throughout the world. This is the first year a Wizard World convention has been held in St. Louis.
Who are the big names? Celebrity guests are subject to change, but right now the roster includes Stan Lee, Marvel Comics' biggest name and mastermind behind Spider-Man, X-Men, Daredevil and other major titles; Laurie Holden, "Andrea" from AMC's The Walking Dead; Tom Felton, "Draco Malfoy" in the Harry Potter movies; Billy Dee Williams, "Lando" from the original Star Wars trilogy and spokesman for Colt 45 malt liquor; and Morena Baccarin, "Jessica" on Homeland and "Inara" from Firefly. There also are a ton of St. Louis-based industry professionals on the docket. Find out more here.
Inside the Con
Where do I buy tickets? You can order general one-day and three-day tickets on the Wizard World website, or you can get them at America's Center at the door for an extra $10. You also can request tickets for autograph sessions and photo ops. Here's some more ticket info.
How's it set up? Have you ever been to a major trade show, craft fair or sports-fan event? It's kind of like that, but on crack and with more costumes. Rows of tables, booths and activities snake through the convention center, with their representatives offering information, takeaways, merchandise or services (floor layout here). Celebrities are available on a special schedule, either at their own booths, at panel events or at VIP shindigs. Within one hour, you might pick up a comic book, play a round of Settlers of Catan, take a photo with Batman and hear what it's like working on professional zombie makeup.
provided by Wizard World
This variant cover by Arthur Suydam for "The Walking Dead" #1 is a St. Louis exclusive.
What happens during the special events? During panels, celebrities and industry experts discuss specific topics and answer fan questions. Some of the panels deal with filmmaking, the 50th anniversary of Doctor Who, creating comic books on an iPad and St. Louis' own Voltron television series. There are some special meet-and-greets and Q&A sessions, too, including those with Marvel's Stan Lee and members of The Walking Dead. You can read the programming schedule.
Will I get swag? We'd be surprised if you walked away with nothing. In addition to the purchasing opportunities, many booth owners hand out freebies or coupons. You'll likely fill a bag with buttons, plastic rings, figurines, patches, books, game pieces and more. You also could pick up items that are exclusive to the St. Louis con, such as illustrations, comics and lithographs. In addition, there are plenty of prize drawings and special gifts.
What kinds of people go to these things? On the surface, Wizard World and other such conventions seem like they're geared toward hardcore nerds. Once upon a time, it used to be like that. Not anymore, though. In addition to the D&D dungeon masters and cosplayers, you'll be among movie buffs, art collectors and little kids who want to meet their favorite superheroes. (Kids ten and under get in free.)
We won't lie; you WILL be surrounded by a lot of people wearing spandex or T-shirts that make math jokes. But plenty of "normal" people will be there, too.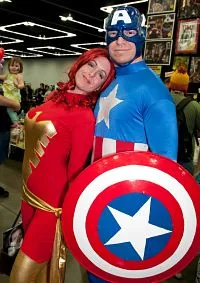 What the heck is "cosplay?" Many fans are interested in bringing their favorite characters -- well-known or self-conceived -- to life as accurately as possible. Cosplayers carefully craft intricate costumes and showcase them at major conventions. Their versions of Princess Leia, Ash or Egon often are as elaborate as what you've seen on the big screen or in books, and some of these artists have gone on to have careers as professional costumers for movies, television and theater. Wizard World has a couple of cosplay contests and opportunities planned for the St. Louis con and posts about them on Facebook.
Not everyone has the time or inclination to go into such detail on costumes, though. Some folks throw on a spandex body suit and some boots and call it a day (ahem, us), while others simply reuse old Halloween costumes. The level of costume mastery really runs the gamut, and all of it is accepted and appreciated.
Um, do I have to dress up? Not at all! You could walk into the convention wearing farmer overalls and no one would care. Cosplay adds to the con experience for some, but it's not necessary. If you felt like getting into the spirit without a full costume, you could always pick up a simple Superman T-shirt from Target or your local comic-book shop. There also are dinosaur hats at Dollar Tree for, um, a dollar. Because who doesn't like dinosaurs?
Women in spandex? Maybe this isn't so bad after all. Easy, dude. Though people of both sexes may be wearing revealing costumes, that doesn't mean you can ogle them, say suggestive things or touch them. If you'd like to take a photo, ask them politely. If you'd like to legitimately inspect the costume material, ask them politely. People wear costumes because they want to be seen, of course, plus it's a great way to meet like-minded folks from around the world. Just don't be an asshole here anymore than you are an asshole anywhere. Come to think of it, just don't be an asshole.
So cameras are allowed? Check Wizard World's and America's Center's policies for specifics, but generally yes. As much fun as this whole thing is (and it is fun, Mr. Non-Nerd), it's also a marketing opportunity for the celebrities and booth renters. Taking and sharing photos obviously helps with that. Just remember to be courteous.
What if I get hungry? Just like at any convention, there are plenty food booths at Wizard World. If pizza and pretzels aren't your style, though, check out some of downtown's restaurants. Snarf's sandwiches, Pi Pizzeria and Robust Wine Bar are all near the convention center, and you could walk to even more restaurants and grocery stores within a few blocks.
And booze? Please tell me there's booze. Honestly, we have no idea. You usually can get beer and such at the concession stands in the convention center, but we're not psychics here. If you're craving liquid courage to tolerate all this geek stuff, you can always walk to the nearby bars such as Robust, the Over/Under Bar or Tigin Irish Pub.
I don't like any of this stuff. Help? Then just fill a backpack with a sudoku book, a copy of Field & Stream and some beef jerky, and park yourself on a convention-center bench. Seriously, if you're dragged to this thing and you can't make the best of it by talking to folks associated with the biggest entertainment entities, picking up free crap or just people watching, we don't know what to tell you.
We'll be attending Wizard World Comic Con all weekend long and will have a full report Monday morning. In the meantime, follow our reporter's observations on Twitter at @ambabka.