You get into the tourney, and your mascot gets the photo space -- no matter how creepy it is.
As the NCAA Tournament prepares to kick off, we're in a remarkably exciting position this year here in the Gateway City. Our very own Billikens are getting national hype from all corners as a team with the potential to make a deep tournament run, and just a couple hours to the west, the somewhat confounding but oh-so-talented Missouri Tigers are hoping to avenge last year's March Meltdown. (Patent pending.)
So what is a St. Louis basketball fan to do? Which of these two Show-Me State powerhouses should you be following? More importantly, which one should you be betting on to win your office pool and make Larry from accounting cry? (Suck it, Larry from accounting!)
Have no fear, sports fan. The RFT is here to break it down for you.
First off, both the Tigers and the Billikens do have one very important factor working in their respective favors: both are playing in the Midwest region, putting them both in at least somewhat friendly territory. The games are all still on neutral floors, of course, but at least it isn't Duke University opening up in Fresno or that sort of thing.
The similarities don't end there, though. Given that Mizzou and SLU are only a few lines apart in their bracket, their roads could both include many of the same teams, were either to make a long run into either the Elite Eight or even Final Four rounds. In fact, it's entirely possible the Tigers and Billikens could play each other in the Sweet Sixteen. (Though that isn't all that likely; more on that in a moment.)
Projection: Mizzou won't get past 2nd round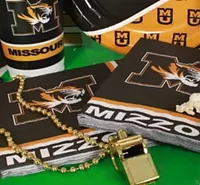 Sadly, this year's party doesn't favor Missouri.
The Tigers, as the ninth seed in the region, will actually play their first game as an underdog, however slight, as they draw the Colorado State Rams. The Rams and Mizzou are very similar teams, making for an intriguing matchup. Missouri is a bit better offensively, while Colorado State is stronger defensively. (Or at least less underachieving, perhaps?) Both teams boast absolutely elite rebounding, as the Rams rank fourth in the nation, and the Tigers rank second in rebounds per game. It's going to be a tight game, but the Tigers should be able to push the tempo enough to outscore the Rams in the end.
Unfortunately, that's where the road probably ends for Mizzou, as barring a first-time-ever occurrence in this year's tournament (a #1 seed losing to a #16), they will take on the No. 1 overall seeded Louisville Cardinals in the round of 32. These two teams have already played once this year, back in late November, and the results weren't pretty, with Rick Pitino's bunch beating the Tigers 84-61. It should be closer this time around, but I'm afraid Mizzou is still going home.
Next up: SLU's chances look better than Missouri's but still there's this... Projection: SLU to Sweet 16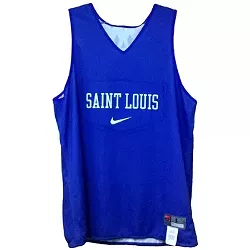 SLU opens up as a four seed, taking on the New Mexico State Aggies. Neither team is much on scoring, preferring to do their winning through defense, but the Billikens are a much more talented team. They can't overlook the Aggies, by any means, but it shouldn't be too tough a win for Jim Crews' squad.
After that, the Billikens will meet up with the winner of the Oklahoma State/Oregon game, which is one of those 12-5 matchups that generates at least one upset every year. I'm calling it right now that Oregon will pull this one off and send the Cowboys home.
I'm also calling the Ducks/Billikens game in favor of SLU right now. Oregon is a strong team; much stronger than much of their season reflected. All the same, the Billikens' brand of smothering defense will carry them over the Ducks.
And then...that's when things go bad for the Bills. See, remember that Louisville team that beat Missouri up above? Yeah, well, they just happen to be the most likely opponent for SLU, should the Billikens make it into the Sweet Sixteen.
That's not to say the Cardinals beating the Billikens is a foregone conclusion; in fact, if there's any team in the country capable of playing defense equal to that of Rick Pitino's Cardinals, it's the Billikens. Both teams are just nightmarish matchups for any offense; the difference is ultimately going to be the stronger offense of Louisville. The score will be tight, and low, but the Cardinals will, I believe, pull off just enough scoring to send SLU home.
So get ready, St. Louis, to hate Rick Pitino. A bunch. (Even if you don't already.) Unfortunately, this here crystal ball of mine (which is always completely, totally, one hundred percent accurate), tells me both Missouri basketball teams are going home at the hands of Louisville. In back to back rounds, no less.
It's really a shame, too; if ever there was a year for the Billikens to make the first Final Four appearance in school history, this would be it. They have a tremendously talented team, a coach of the year candidate, and a real cause. Playing for the memory of Rick Majerus, the Billikens don't have to search for a rallying point, for some uniting force to bind them together and propel them forward. A run to Atlanta would be a storybook capper for a remarkable season, wouldn't it?
Still probably not going to happen, unfortunately. But there's no harm in dreaming.