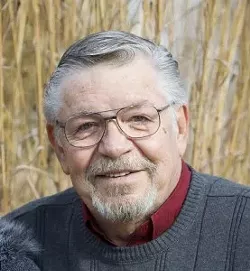 O'Fallon Councilman Jim Pepper.
What's with all the Second Amendment bashing?
That's the underlying question that O'Fallon City Councilman Jim Pepper says prompted him to propose a local bill that would block federal gun-control measures.
That's right, members of the city council are pushing a municipal proposal to stop the enforcement of any gun-control policies -- even national orders -- that they think violate the constitutional right to bear arms.
"Why is everybody going against the Second Amendment all the time?" Pepper asks Daily RFT. "Over the years, I have gradually seen an eroding of certain constitutional rights."
What would his bill actually do if passed?
The draft version of his legislation, which was formally introduced last week and is expected to be voted on later this month, says that O'Fallon's elected officials swore to uphold the Constitution of the United States.
The bill, full draft on view below, says:
The Governing Body of the City of O'Fallon within the state of Missouri declares that all federal, state, or local acts, laws, orders, rules, regulations, or executive orders -- past, present, or future -- prohibiting the keeping and bearing of arms, arms accessories, or ammunition are a violation of Amendment 2 of the Constitution of the United States along with Article 1 of the Missouri Constitution - Bill of Rights - Section 23 and violate the true meaning and intent of both as given by the Founders and Ratifiers and are hereby declared to be invalid within the City of O'Fallon and all of its boundaries, shall not be recognized by this City or within all of its boundaries, are specifically rejected and shall be considered null and void and of no effect in the City of O'Fallon within all of its boundaries.
The language is similar to a Republican proposal at the state legislature designed to block any gun-control orders from President Barack Obama. That legislation and other anti-gun control initiatives and stunts have brought national attention to Missouri this year.
via Facebook
Representative Casey Guernsey, who proposed state legislation against federal gun control.
Pepper, however, says he was inspired by an O'Fallon resident who brought the idea to him; the Ward 2 councilman eventually drafted a formal proposal and co-sponsored the bill with Councilman John Haman.
Continue for more of our interview with Jim Pepper and for the full draft.
"It sends a message that the people of O'Fallon and the police department will not put up with anyone coming in and infringing upon constitutional rights in this city," Pepper says, adding that the legislation also makes clear to "our police department and our law enforcement authorities that they do not have to enforce federal law that is unconstitutional."
He continues, "Does anybody read the reason why [the Second Amendment] was put into the Constitution? It was basically to stop the tyranny of any government."
"We don't want any...governments to become tyrannical in any way shape or form.... Maybe a municipality needs to stand up and say no."
He says that he's not aware of another Missouri municipality that has adopted a proposal like this, but says there are other cities in the country that are pushing back against gun control.
Would the bill be enforceable in some way if passed in O'Fallon?
"I believe at this point...it is symbolic in nature," he says, but adds that it's important to make it clear that the city won't tolerate any limits on the Second Amendment. "You are taking away my right to defend myself, my wife, my children, my property."
Here's the latest version of the draft.
Send feedback and tips to the author. Follow Sam Levin on Twitter at @SamTLevin.