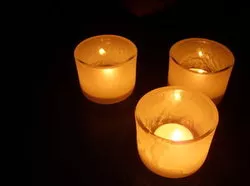 A candlelight vigil in north St. Louis turned violent when three women got into a physical fight -- eventually prompting two men to fire multiple gunshots, police say.
It's unclear what exactly caused the altercation at the intersection of Riverview Boulevard and Veronica Avenue and what role the vigil played in the fight.
But police were forced to respond to the vigil on Friday afternoon, which turned into a crime scene when a male suspect began hitting a twenty-year-old woman.
Was anyone hurt?
It appears that there were no serious injuries reported -- though there was some kind of attack and shots were fired.
Police say that around 5:30 p.m. on Friday, a twenty-year-old woman got into an altercation with two other women. As she was fighting with them, a male suspect came over and began hitting the young woman, police say.
Eventually that fight broke up, but the same male suspect and a second man began firing gunshots at this twenty-year-old woman.
Police say that the four suspects in this case are known, but they haven't released their names. They say no injuries were officially reported and the investigation is ongoing.
Here's the full alert from metro police.
Incident: Assault 1st/Assault Location: Riverview & Veronica Date/Time: 3/15/13 @ 5:30 p.m. Victim: 20-year old female Suspects: 4 known While at a candlelight vigil at the above location, the victim got into a physical altercation with two known females. As the victim was fighting with the two female suspects, a male suspect began hitting the female victim. After the fight had broken up, the male suspect and another male suspect fired multiple gunshots at the victim. There were no reported injuries. The investigation is ongoing.
Send feedback and tips to the author. Follow Sam Levin on Twitter at @SamTLevin.