St. Louis County Police
Terrence Clark, suspect
DeWayne Whitehead, the owner of 3one4 Hair Gallery in north St. Louis county, says he does everything he can to keep his employees and customers safe -- but there's violence around him.
"What's going on outside is not what's going on inside," he tells Daily RFT. "We are doing our part."
But his business has made headlines over the last two days as a place of violence -- after his co-owner was shot and sent to the hospital where he remains in critical condition.
Whitehead, 35, says he doesn't know what to do to keep his business going in its current location.
His co-owner, who Whitehead identified as Anthony Coleman, 53, has been at the hospital since a Monday afternoon shooting.
"He's still fighting," Whitehead tells us.
County police announced yesterday that Terrence Clark, 28, has been charged in the barbershop shooting that took place around 12:46 p.m. on Monday. Officials say that Clark, a St. Louis resident, fled the crime scene at 11806 West Florissant Avenue in a white Malibu, which was spotted by police soon after, prompting a pursuit on foot.
After the short chase, police say they apprehended the suspect, who apparently tripped at the intersection of Cora and Natural Bridge Avenues in the city.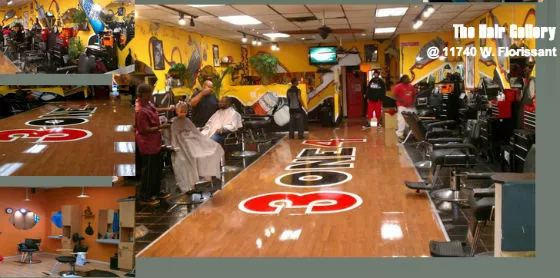 He is facing charges of first-degree assault and armed criminal action with a $100,000 cash only bond set.
Whitehead says he was not at the business at the time of the shooting and that he doesn't know what prompted the shooting or if the suspect had some sort of connection to his co-owner.
And the shooting, he says, took place outside of the shop in a parking lot.
Continue for more of our interview and for the full report on the shooting.
Whitehead says he is frustrated with news stories making it seem like his establishment deserves some of the blame. KMOV reported that county police have responded to a half-dozen calls for crime at the shop in recent months.
But Whitehead says it's never inside his barbershop.
"The business is not at fault," he says. "We do things for the community."
Still, everyone is very shaken up after this latest shooting, he adds. "I fear for my life."
In the meantime, he's shut his doors.
"I'm going to close it down until further notice, until I feel comfortable, until employees feel comfortable," he says, noting that he has security cameras inside and that people have to be buzzed in to enter.
Whitehead adds, "I want to see the police police the area. If police policed the area, we wouldn't even be talking about this."
Here's the full alert form police.
The St. Louis County Prosecuting Attorney's Office issued warrants Tuesday, March 12, 2013 on Terrence E. Clark III, 28 years of age, of the 3100 block of Rauschenbach, St. Louis, Missouri, 63107, for one count of First Degree Assault, and one count of Armed Criminal Action. A $100,000 cash only bond was set. A photo of Clark is attached.

Charges were issued following an incident on Monday, March 11 at 12:46 pm, when officers of the St. Louis County Police Department North County Precinct responded to a shooting at 11740 West Florissant, 3one4 Barbershop in Unincorporated North County. Officers received information that a white Malibu occupied by a single black male was seen leaving the scene. Officers observed the vehicle and pursued it to the 3500 of Cora Dr. in St. Louis City. The subject fled his vehicle leading officers in a brief foot pursuit before the subject was caught and taken into custody. The gunshot victim, the 53 year old owner of the barbershop, was last known to be in critical condition at a local hospital.
Send feedback and tips to the author. Follow Sam Levin on Twitter at @SamTLevin.