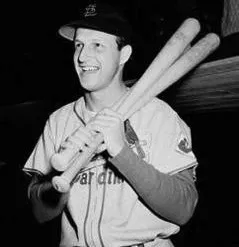 U.S. Senators Claire McCaskill, a Democrat, and Roy Blunt, a Republican, don't usually agree on much of anything -- but they can come together for Stan the Man.
And thus the rare press release yesterday quoting both Missouri senators, who are championing the unanimous passage this week in the U.S. Senate of the proposal to name the Mississippi River Bridge project the "Stan Musial Memorial Bridge," after the late, great Cardinal.
Or as McCaskill calls it in her quote, the "Stan Span."
Will the Musial bridge idea be signed into law?
It's unclear how many more Musial-themed bipartisan press releases we can expect before the Stan Musial Memorial Bridge becomes official.
There's also a parallel push at the state legislature in Missouri, where one lawmaker recently proposed an amendment to name a nearby highway after Andy Gammon, a worker who died during the construction of the project. After the Stan Musial idea began building serious momentum, the family of Gammon started pushing for the alternative idea -- to honor a man who gave his life for the project.
Sam Levin
Claire McCaskill in St. Louis last month.
Meanwhile, a group of St. Clair County officials are endorsing a completely different name altogether: The Veterans Bridge.
That recommendation, however, goes against the U.S. Senators in Illinois -- Dick Durbin, a Democrat, and Mark Kirk, a Republican -- who both are pleased with the Stan Musial idea, according to the cheery press release from yesterday.
Sam Levin
Roy Blunt talking to reporters in February.
All four senators joined together last month to introduce the legislation -- which, having cleared the Senate, is now headed to the U.S. House of Representatives.
Here's the full news release in all its bipartisan glory.
'Stan Musial Memorial Bridge' Rounds Third, Unanimously Clearing U.S. Senate

Effort by Missouri and Illinois Senators to rename bridge for baseball great is on the cusp of becoming law

WASHINGTON - Legislation naming the new I-70 bridge over the Mississippi River in St. Louis the "Stan Musial Memorial Bridge" unanimously passed the United States Senate late last night with support from all four Missouri and Illinois Senators.

"I'm thrilled to see the 'Stan Span' so close to becoming a reality, and urge my colleagues in the U.S. House to quickly approve this tribute," said U.S. Senator Claire McCaskill (D-Mo.). "There's nobody I'd rather see welcoming folks into St. Louis than our hometown hero, Stan Musial."

"Naming the I-70 Bridge after Cardinals legend, Stan Musial, would be a fitting honor to a great American hero and the values he stood for," said U.S. Senator Dick Durbin (D-Ill.). "I am proud to have worked with Senators McCaskill, Blunt and Kirk on this bipartisan legislation as a tribute to one of our best."

"I'm pleased my Senate colleagues unanimously passed this bill to honor Missourian and baseball legend Stan Musial," said U.S. Senator Roy Blunt (R-Mo.). "Stan was a true hero to so many Americans, both on and off the field. This is a great way for us remember his legacy for years to come."

"I am pleased that the Senate moved quickly to pass legislation naming the new I-70 bridge over the Mississippi River after baseball legend, Navy veteran, and Presidential Medal of Freedom recipient Stan Musial," said U.S. Senator Mark Kirk (R-Ill.). "Stan Musial gave his all to the St. Louis and Metro East region and this is just one small way we can honor that legacy."

The legislation now heads to the U.S. House of Representatives for consideration.

Last month, all four Senators teamed-up to introduce the legislation--ensuring quick passage through the committee process and expedited consideration on the Senate floor.

In 2010, a bi-state Congressional delegation encouraged President Obama to consider Musial for the Presidential Medal of Freedom--an honor he received on February 15, 2011.

The Presidential Medal of Freedom recognizes those who have made an "especially meritorious contribution to the security or national interests of the United States, world peace, cultural or other significant public or private endeavors." The award was first given by President Harry S. Truman in 1945 to honor civilian service and was revived in 1963 by President John F. Kennedy.
Send feedback and tips to the author. Follow Sam Levin on Twitter at @SamTLevin.