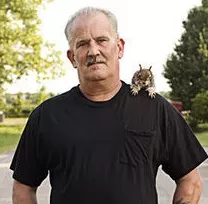 Photo: Jennifer Silverberg
Nadeau poses with one of his creations for a 2009 RFT feature story.
Fame can be a tough nut to crack for a taxidermist. That is unless you're someone like Rick Nadeau, a man who specializes in mounting squirrels dressed up like little rodent cowboys, soldiers, chefs, you name it. Nadeau boast on his website that he can "mount any squirrel in just about any position or style you would like."
Here at Riverfront Times we fell in love with Nadeau and his unusual "rogue taxidermy" back in 2009 when we featured him in a cover story titled (what else?) "Mount My Squirrel."
And apparently we are not the only media outlet that has fallen for the squirrelly artist from southwestern Illinois. Tomorrow night (March 14, 9 p.m. CST) Nadeau appears on AMC's taxidermy-themed reality show, Immortalized.
Unfamiliar with the show's concept? Think Iron Chef but instead of participants being given a secret ingredient with which to make a fabulous gourmet dish, they are given a theme (as well as a budget and a deadline), which they must represent through the art of taxidermy. Participants on the show are then matched up with one of the show's four resident expert taxidermists to compete head to head for bragging rights.
Here is 30-second promo for the show:
Nadeau tells Daily RFT that the invite to appear on Immortalized caught him off guard when it arrived last September. He'd never heard of the show, though he was eager to compete. For tomorrow's episode the show's producers asked Nadeau to create a work that fit the theme of "love and war."
"Based on what I do and my work, it wasn't difficult at all for me," says Nadeau, who cannot divulge what exactly he made for the competition or whether or not he used squirrel.
The most difficult part, he says, was meeting the competition's 30-day deadline to produce a masterpiece. Nadeau works the second shift at a warehouse in his hometown of Mitchell, Illlinois, that keeps him busy most days from 3 p.m. until after midnight. All his free time that month went to working on the show.
At the end of the deadline, Nadeau and his wife flew back to L.A. to present his work before Immortalized's judges.
Nadeau's competitor on the show was Page Nethercutt, an Immortalized cast member from North Carolina who specialized in African mammals. Nadeau says Nethercutt's final piece wasn't exactly his cup of tea.
"To me, it was just more traditional work," he says. "It's kind of boring in my eyes, because I try to be more creative with my work."
Nadeau's creativity includes creating stuffed "Rally Squirrels" after the famed rodent's appearance during the 2011 World Series. Nadeau's mounts the squirrels with Cardinals hats and gloves.
Nadeau tells Daily RFT he has been returning home during his lunch breaks to watch Immortalized since it began airing February 14. For his episode, though, Nadeau says he is planning a viewing party at the squirrel's nest he calls home. He says he is looking forward to seeing himself on air, and says that he would definitely do it all over again, if given the opportunity. Continue on to view more of Nadeau's creations.