Missouri is the only state in the country that doesn't have a so-called "prescription drug monitoring program" -- a fact that could be contributing to the rapid growth of heroin use in the state, as evidenced by new data we reported on last week.
"There are a lot of people who are 'doctor shoppers,' who go from doctor to doctor," Brenda Schell, executive director of the Missouri Recovery Network, tells Daily RFT. "And when they no longer can get prescription drugs, they turn to heroin and heroin is fairly cheap."
One Missouri lawmaker, with support from advocates, is pushing a bill that could address the increasing challenge of heroin abuse in the state.
The Missouri Recovery Network released a report last week that included a wide range of alarming statistics around heroin use, including the fact that heroin deaths have more than tripled in just four years with 244 fatalities in 2011 -- a number advocates believe is likely an undercount.
And the same week this study was released, advocates spoke at a hearing at the Capitol for Senate Bill 233, a proposal from State Senator David Sater, a Republican. The bill, which would establish a prescription drug monitoring program for Missouri, says:
The Department of Health and Senior Services is required to establish and maintain a program to monitor the prescribing and dispensing of all Schedule II through Schedule IV controlled substances by all licensed professionals who prescribe or dispense these substances in Missouri. The provisions of this act shall be funded with federal or private moneys.

A dispenser shall electronically submit to the department information for each prescription and specify the frequency of the submissions.
Submitted prescription information remains confidential under this proposal, though the act does allow for the release of general statistical information for educational and research purposes.
The bill also creates punishments for doctors who fail to report.
Continue for more details on the program and for a draft of the legislation.
The law would also establish a $1,000 administrative penalty for dispensers who knowingly fail to submit the required information or who submit incorrect information. And if officials with access to the data disclose the information -- violating confidentiality -- they could face misdemeanor charges.
"It gives health care professionals a tool to reduce the use and misuse and abuse," says Schell.
She explains that it would establish a secure, confidential electronic database that would make it easier for doctors across the state to avoid giving prescription drugs to those who are abusing them. Every other state has some kind of program like this, she notes.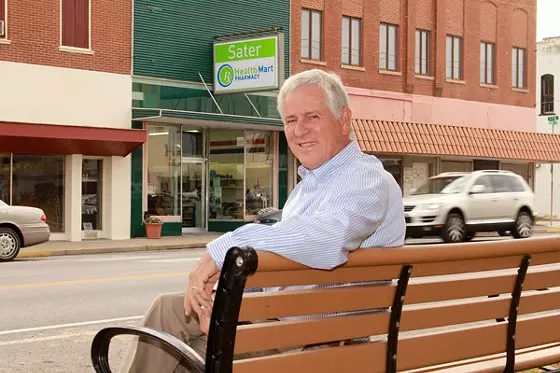 State Senator David Sater
Advocates argue that these programs improve medical care for patients and have helped reduce dependence on controlled substances in other states.
Schell, whose organization's report also outlined the growing problem of opiates, says that this kind of program could address the rise in heroin and other opiates by identifying abusers earlier on. (And studies show that prescription drug addictions are more frequently leading to heroin abuse).
She also says that the rate of Missouri teenagers using prescription drugs for recreational use is notably higher than the national average.
Here's the draft bill.
And here's the Missouri Recovery Network report, which includes information on these programs.
Send feedback and tips to the author. Follow Sam Levin on Twitter at @SamTLevin.