Representative Mike Leara
A Missouri bill to stop bills that force others not to introduce certain kind of bills? Almost.
Representative Stacey Newman, a Democrat who has been very vocal on gun control, has collected thousands of signatures on a petition to urge lawmakers and legislative leaders to quit introducing pro-gun publicity stunt bills that she says are a distraction to the serious efforts to reduce gun violence. Her main target? Republican Representative Mike Leara and his bill to criminalize lawmakers like Newman who even propose gun control.
"We're asking the legislature to stop it with the insane bills," Newman tells Daily RFT. "Let's stop the nonsense and let's get the attention back on things that can actual save lives."
And why not promote this cause through legislation?
Newman, as you might recall, was the representative last year who proposed a bill to restrict vasectomies, her clever contribution to the birth control debate and response to Republican lawmakers trying to restrict abortions. Wasn't that bill a symbolic one to get her pro-choice message across?
"There's still some crazy abortion stuff," Newman says, noting that there are lawmakers this session trying to control women's health care choices with more anti-abortion bills. "Nobody laughs at that."
Still, she decided that she didn't want to add another publicity stunt bill to the mix this session with legislation that would stop representatives like Leara from proposing bills that would stop her from proposing gun control bills (though, we admit, that would be pretty funny).
"That probably would've ended all my credibility," she jokes. "I have a line... And I want to keep this serious."
And efforts to reduce gun violence are no laughing matter, she says.
That's why she gathered more than 2,100 signatures on a petition she delivered to Missouri House Speaker Timothy Jones as part of a Missouri Moms Demand Action effort.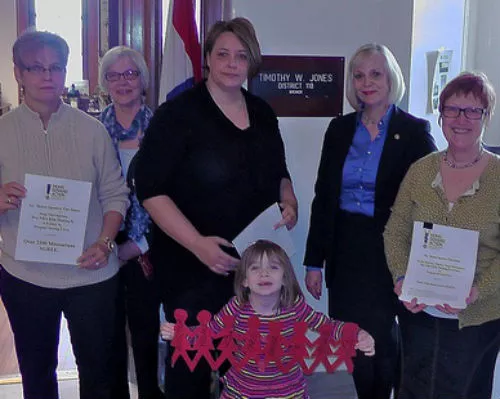 Courtesy of Newman
MO Moms Demand Action delivering firearm petition: Resa Dudley, Wanda Thompson, Taunia Adams, Rylee Hirschvogel, Rep. Stacey Newman and Charmaine Owens.
"This is about making a statement," says Newman, who has introduced and is continuing to promote her bill for universal background checks. "We all know the validity of this kind of legislation [to criminalize gun control proposals]. Obviously, this bill will not be signed by the governor."
Continue for more of our interview with Stacey Newman and the petition.
What's frustrating to Newman is that these proposals exist only to spread misinformation and scare gun owners, she argues. "This is all about enraging people and enraging your own base.... But polls show that people overwhelmingly want these mandatory background checks on gun sales. It's not the only step and it's a first step."
And as part of a national Moms Demand Action "for gun sense in America" effort, Newman is headed to Washington D.C next week. On Wednesday, she'll be at the White House for a "Moms Take the Hill" event.
And given the GOP leadership's opposition to gun control legislation in Missouri, her best bet for change may be D.C, she notes (though Missouri has continued to push its bill to block President Obama's gun orders bill as well).
"If the [Missouri] legislature decides that they are not going to take any of these commonsense bills seriously," Newman says, "then our efforts are really on the federal level."
Daily RFT left a message with Representative Leara's office this morning and will update if we hear back.
Here's the full petition.
Stop outrageous pro-NRA Missouri bills making it a felony to propose gun safety legislation.

Why is this important?

This past week Missouri State Rep. Mike Leara (R-St. Louis) proposed legislation: "[a]ny member of the general assembly who proposes a piece of legislation that further restricts the right of an individual to bear arms, as set forth under the second amendment of the Constitution of the United States, shall be guilty of a class D felony."

I am one of those legislators my colleague and the NRA is targeting. Rep. Leara wants me to go to prison with his bill.

Why? I filed a common sense bill calling for closing the background checks loophole in Missouri, almost identical to the proposal called for by the White House and other lawmakers around the country.

Over 2000 people in the U.S. have been killed by firearms to date since the Sandy Hook Elementary School mass shooting...more than 30 lives are killed daily.

Rep. Lear's response? Criminalize legislators, like myself, for standing up against the NRA in Missouri by proposing common sense supported by the majority of citizens.

So why the political games to make it a felony for Missouri legislators to file gun safety bills?

Rep. Lear stated, "I filed HB 633 as a matter of principle and as a statement in defense of the Second Amendment rights of all Missourians". He said, " I want it to be clear that the Missouri House will stand in defense of the people's Constitutional right to keep and bear arms."

We need responsible legislators in Missouri who care about saving lives, not ones who grandstand with the media and play political games just to get on comedy shows.

Get serious or go home.

Missouri State Representative Stacey Newman
Send feedback and tips to the author. Follow Sam Levin on Twitter at @SamTLevin.