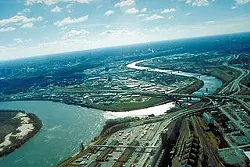 Here at RFT, we did a double take when we stumbled on a Kansas City Star headline this week that read, "KC is rising while St. Louis keeps falling." Then we actually read the column by Yael T. Abouhalkah, who argues that "Kansas City is superior to St. Louis."
Really?
We can't let this one go.
If you picture the nation's highway system as a vast system of pipes, Kansas City is the large grate on the storm drain that catches every dead body and piece of excrement that's trying to head west. Everybody who lives in the city proper was seemingly on their way to Colorado or California, but something happened and now they're stuck there.
Speaking of rivers of human excrement, your "fancy" Plaza shopping district is bifurcated by Brush Creek, which is really just storm sewer overflow.
And yet you widened it and now charge tourists to take gondola rides. On a shit river.
See also: - 20 Reasons to Love Winter in St. Louis - The Kansas City Chiefs Have Disappointed a Fan to Death - To The Asshole Who Sat Behind Me At the Springsteen Show in Kansas City - Why Are Hate Crimes Nineteen Times More Likely in Kansas City Than St. Louis?
The Kansas City Art Institute is one of the most densely populated hipster preserves outside of Brooklyn, and yet the city won't issue hunting permits so the herd can be thinned.
Midtown Kansas City is a bastion of tolerance and diversity, with a solid mix of black, white, Hispanic, straight, gay, what-have-you people all living their various lives side by side. Everything outside of that twenty-block enclave is a nightmarish world of redneck meth-head zombie carpetbaggers paler than a mayonnaise blizzard.
David Glass continues to own the Kansas City Royals, much the same way Hitler owns the toothbrush mustache.
The Kansas City Star apparently still thinks it has God on its Editorial Board, what with the Bible quotes on its editorial page.
Who edits God's copy?
The airport features three separate terminals housed in three separate buildings all on the same property, and it's so far out of the way it may as well be in Nebraska, which, by the way, is way cooler than Kansas City.
It has some of the greatest Mexican food outside of Mexico (Rudy's Tenampa Taqueria FTMFW), and yet all anybody talks about is barbecue. SCREW YO' WEAK-ASS BBQ, KC!
It stole its name from it's better-looking, safer, cleaner and better-smelling twin sister, Kansas City, Kansas, but tries to play it off like nobody knows the difference.
Your greatest literary achievement is professional doggerel typist Calvin Trillin, not Ernest Hemingway. Papa was a terse, drunken asshole, and even he couldn't stand you, KC, so he left.
Your pizza is universally insipid and uninspired, perfectly representing the city. Minsky's on 39th is the only exception.
And one more thing -- you once had a professional soccer team named the Wiz.
Your move, KC Star.