"Dark haired guy I hooked up with... You NEED to call me."
So reads the title of a St. Louis Craigslist post that went up on Sunday night. "I'm pregnant. I think you said your name was eithe [sic] Mark or Steve.... We need to figure out what to do about this situation."
Where'd they meet? Soulard Mardi Gras.
Daily RFT contacted the author to find out if she wanted help publicizing her search and maybe give an anonymous interview. We got this e-mail back: "I want you to know that the post regarding a young woman looking for her Mardi Gras Baby Daddy is a fabrication. More of my sheer curiosity to see how a young woman would be judged on a bad decision, leading into a bad situation."
We did end up talking to the 30-year-old male behind the post, who shared with us the fairly horrifying results of his bizarre social experiment.
See also: - Photos: Top Most Embarrassing St. Louis Mardi Gras Shots On Social Media - Slideshow: Scenes from Soulard Mardi Gras, 2013 - Mardi Gras: Nearly 100 Arrested in Soulard For Drinking, Pot -- And More! - Five St. Louisans Just Trying to Get Laid Before the End of the World
First, here's a screengrab of the post, which has since been taken down.
The post was flagged in under 24 hours. But not before the imposter got a lot of replies -- a whopping total of nearly 30 e-mails back.
Were they from dark-haired, concerned potential fathers? Not one.
The replies, which the Craigslist poster shared with Daily RFT, are mostly from creepy dudes who, for some reason, have terrible, mean things to say to an anonymous woman allegedly searching for her child's father on the Internet.
Here's one example from a guy named Rob: "seriously? Wow what a slut..n then u hope to find the dad on craigslist but dont even know his name? And yes....so much chemistry he doesnt talk to you and u dont have his # lol omg"
And another: "See what getting drunk gets you???? Dumbass didn't think about the consequences.What a whore."
The other category of responses were guys looking for sex. Exhibit A: "Damn. This is a hot story. ;) fucked by a random guy then knocked up? May I buy you a few drinks?"
To get a full taste of the horrible world of people on Craigslist, we've compiled all of them below. But first, what's up with the guy behind the post?
Continue for our interview with the anonymous poster and for more replies.
He wanted to leave his name out and told us only that he's a 30-year-old lifelong St. Louis resident.
"I like seeing how other people react to obscure situations," he says. "Years ago, I saw on Craigslist there was a similar post...that might've been sincere.... I wanted to see what kind of reaction I'd get."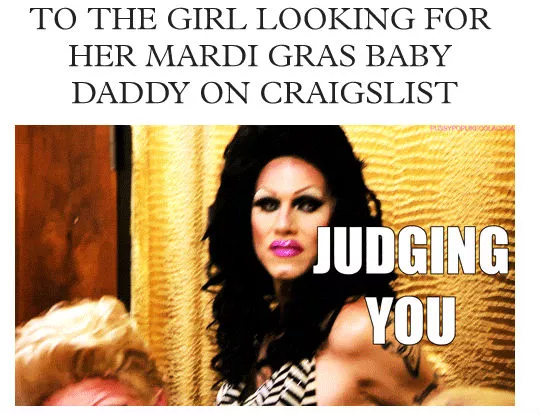 This showed up on Tumblr after the St. Louis Craigslist post went up.
The idea just recently popped into his head, and he says he doesn't normally post on Craigslist and hasn't done anything like this before.
He also says he wasn't too surprised by the results.
"It just confirmed the way I believe people on Craigslist would be honestly," he says, adding that he shared his secret only with a few guys at work who got a kick out of the replies.
It was a bit surprising to see just how many people took the post as an opportunity to try and score a hookup, he says.
"I'm in a shitty situation, but you're gonna make it your good situation. Why?" he says.
Here are the rest of the replies (warning: some include graphic language):
hi hows it going?
WOW! That is the lowest post on here yet! Girls are just so class now in days!
I've always wanted to sleep with a pregnant girl! You should hit me
Ill hook up with you beautiful ...[this one came with nude photos]
Continue for more of the replies.
No last name? Occupation?
Wow glad it's not me n if he's smart he'll run
u slutty kunt u deserve to have a bastard for a child
Damn I feel for you.
Wow I am sorry hun but I dont think you will ever hear from this guy if you lead with the fact that you are pregnant if you didnt even learn each others names and he hasnt called you he is probably not going to raise a child with you this isnt hollywood.
Hi There, Did you see the moon tonight? ;) [this one came with a butt pic]
lol good luck with that lemme know if he steps up
Sexy Sexy: My husband wants to hook up with a preggo chick wanna see his pic
Wow. Not him but can we chat?
Ha ha you got knocked up you Hoosier
Are you serious?
hahahahahahahahahahahahahahahahahahaha!! Slut! You better keep him/her.
See what getting drunk gets you???? Dumbass didn't think about the consequences.What a whore
Damn. This is a hot story. ;) fucked by a random guy then knocked up? May I buy you a few drinks?
Hey, now that you're pregnant you don't have to worry about getting pregnant. Wanna have some hot steamy sex? I lick pussy and ass if you're clean. I'm 27, Irish, and average/athletic. Let me know what you think.
Pic so i know its you
I'm 32 dark hair 6'3 220 fit muscular. Professional great paying job. No kids recently divorced, Im interested if you don't find him.
that guys an ass. Sorry I had to say it...if he doesn't hit ya up drop me anemail. Lol
your so full of shit. your funny. If you slept with him and don't even know his name.....then you slept with many others....is this how you try and get a guy to stay with you.....I would say your TRASH and a WHORE.....lmao!!!!!
Do you have a pic?
would u like to talk and trade pics, im a father and know what its like to be a parent
Send feedback and tips to the author. Follow Sam Levin on Twitter at @SamTLevin.