Sam Levin
Lewis Reed and his wife Mary Entrup.
At around 10:30 p.m. last night inside the Carpenters Hall on Hampton Avenue, a smiling Francis Slay appeared on two large monitors flanked by "Reed for Mayor" signs. The audio of the mayor's victory speech, airing live on KTVI (Channel 2), was muted inside the large room, where loud music continued to blast as supporters of Lewis Reed learned -- in a somewhat odd fashion -- that their candidate had officially lost.
Reed, president of the St. Louis Board of Aldermen, was nowhere in sight. A few shuffled out, but most moved toward the front of the room and watched Slay's silent speech.
"The city's not ready for change," said Kathy Entrup, Reed's sister-in-law, as she waited in the crowd. "The city is complacent."
"He'll try again," another supporter mumbled. After about five minutes, Reed finally emerged with his teary wife and campaign team by his side.
"I did not want to leave any of you waiting any longer for us to come down," Reed told the crowd, explaining that he was trying to get in touch with Slay on the phone -- but was having trouble reaching him. "I'll tell you what, we ran a hell of a race!"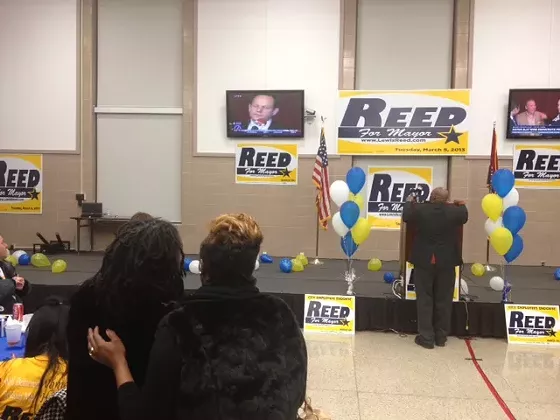 Sam Levin
Reed supporters watch Slay's victory speech live.
It was a slightly awkward opener to the concession speech (as televisions in the room for some reason began to broadcast distracting background noise), but the crowd gave him a loud cheer. Meanwhile Slay, at a gathering downtown, began celebrating his primary victory -- and his virtually certain path to an unprecedented fourth term that comes with the win.
By the end of the night, results showed that Slay, who maintained a large fundraising advantage throughout the race, had a comfortable 54.43 to 44.27 percent lead over his opponent. In a primary race that seemed to get increasingly petty and contentious each passing week, it appears Reed ultimately didn't give the incumbent too close of an election. Assuming he gets more votes than a Green Party candidate, Slay will officially step up to yet another term after the April general election.
"Our message of 'One St. Louis' -- although we didn't prevail and we weren't successful in a win tonight -- what we have done is raise the consciousness of this city," Reed said in his late-night speech. "We know we can do better.... Sometimes it may not be about the win. It may be about the path."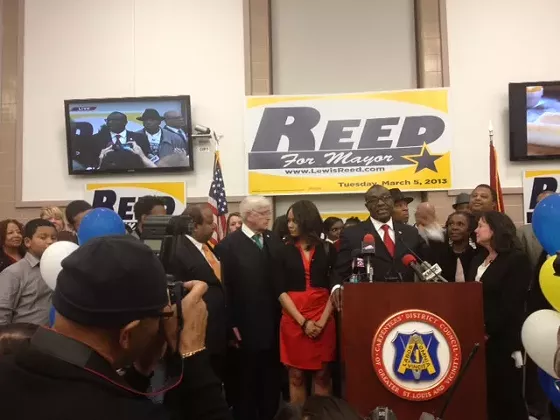 Sam Levin
Lewis Reed during his concession speech.
He said, "Can you imagine how quickly we can change St. Louis with just the people in this room?"
Toward the end of the eleven-minute speech, he added, "We're gonna build a stronger, safer, more unified St. Louis whether we occupy Room 200 or not."
Eventually, though, he will. Or at least he'll try. After his speech, Reed told Daily RFT that he'll run for mayor again -- for sure.
Continue for more from Lewis Reed and more photos.
"Absolutely, absolutely, absolutely," Reed replied when we asked if he'll be a mayoral candidate again in the future. "And the reason why is because when you look at the things that need to happen to build a stronger, safer St. Louis, you can't do them from the seat as president of the Board of Aldermen. All the resources and everything are encompassed in Room 200."
Then will he continue to butt heads with Slay as he did in the last few months of the race? (Reed will continue on as Board of Aldermen president).
He said, "If you get to the point where you're not supporting something, because of the person that's bringing it, then you need to leave office."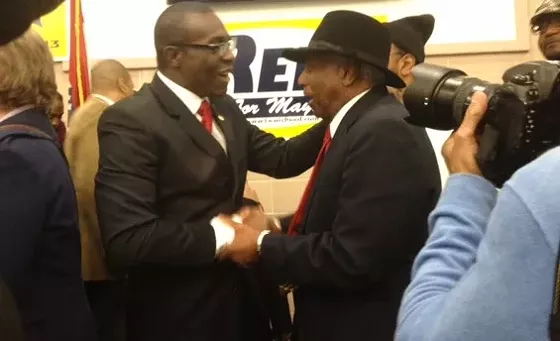 Sam Levin
Lewis Reed greets supporters after his speech.
As an elected official, he told reporters, "You are a representative of the people.... What I'm gonna continue doing is what I've always done. If the issue is an issue that I support, if it's a good idea, then I'm gonna support it. I'm gonna work on it.... If it's not, then I'm gonna raise questions about it."
He later added, "When you get in the ring, you expect to get hit. You just have to hit back. So I don't hold any ill will for them for doing everything in their power to win, because that's what they're supposed to do."
Supporters got in line to hug Reed, shake his hand -- and to urge him to run again at the end of the night.
"The story's just beginning," one told him.
"I'm hiding my tears," supporter Barb Mansker, 53, told Daily RFT. "Four more years? Nothing's gonna change.... But we gave him a run for his money and we'll do it again."
Continue for more photos from the election party.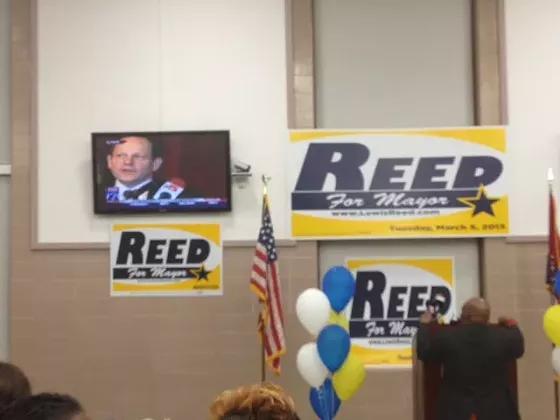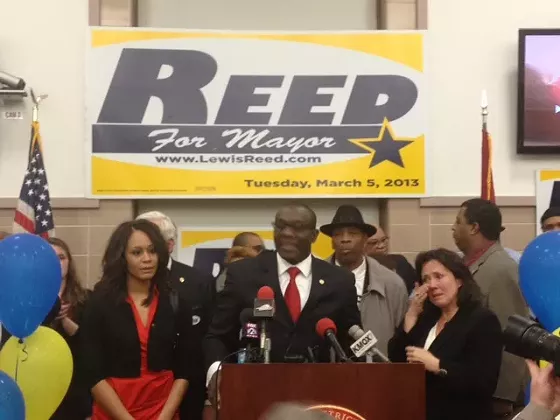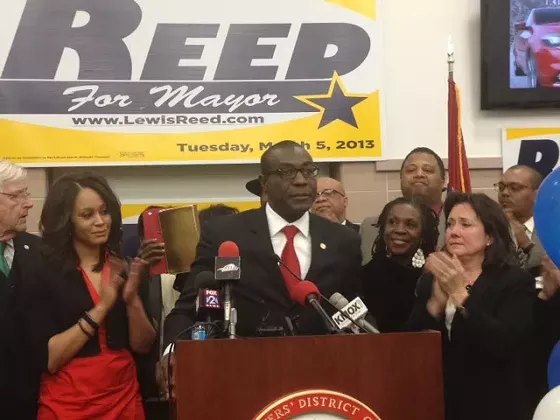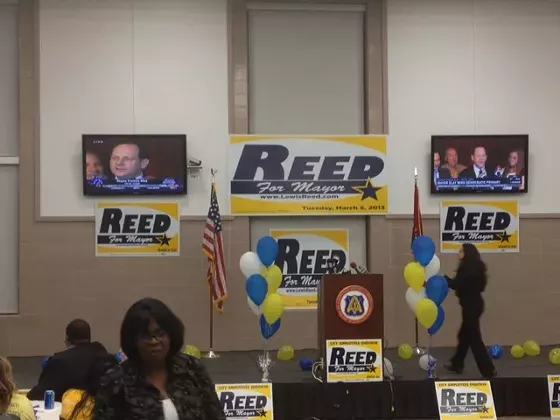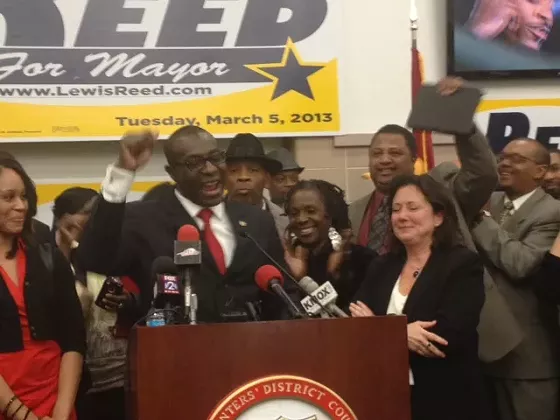 Send feedback and tips to the author. Follow Sam Levin on Twitter at @SamTLevin.