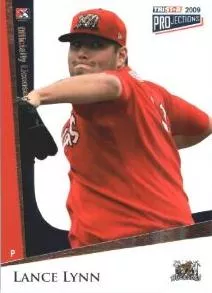 Lynn when he was better rounded.
So, here's the thing: Cardinals pitcher Lance Lynn got skinny during the off-season. Like, really skinny.
Well, okay, not like really skinny compared to skinny people, but really skinny compared to Lynn, who, until this year, routinely showed up to spring ball in one of two coatings: Original Recipe or Extra Tasty Crispy.
For Lynn's health and baseball career, the weight loss is probably a good thing. Still, there's something charming about a really out of shape human being who somehow still succeeds in professional athletics. And outside of an offensive line, there's no better place to witness that particular marvel than in baseball where fat men in polyester can strike fear in both the hearts of opposing pitchers and the owners of Chinese buffets.
So to honor those rare individuals who manage to combine hefty size and hefty skill, we set out to create a list of the all-time, scale-tipping greats. And since we're talking about a group of people who deserve extra portions, we had to make it a baker's dozen. Anything else would be inappropriate, no?
Remember, fellas: it's not the uniform that makes you look fat, it's your big, fat, um, talent. Yeah, talent.
13. Sid Fernandez
Fans of the Cardinals have plenty of reason to remember Sid Fernandez, and plenty of reason not to like him. Part of those Pond Scum Mets teams from the '80s, Fernandez always seemed to come up big when the two teams faced each other, usually at some crucial juncture of the season as the two clubs fought for the old NL East crown. St. Louisans in general just didn't much care for Sid Fernandez in those years.
Dude was pretty good, too, in spite of a body that looked as if it should have been perpetually clad in a Sopranos-style tracksuit, with a career 3.36 ERA, though the injury bug took him out of the game prematurely. (He was essentially done as an effective pitcher by the time he hit about 31.)
Seeing him now, even after all these years, still brings back a bunch of not-so-pleasant memories. And also makes us wonder why Bob Hoskins was tapped to star in that Super Mario Bros. movie when Sid Fernandez probably would have worked a whole lot cheaper at that point.
12. Mo Vaughn
You know what's amazing? This isn't a really fat picture of Mo Vaugh.
Okay, here's my Mo Vaughn story: when I was twelve years old, I bugged my mother to buy me a Mo Vaughn rookie card that cost six dollars in 1992 money. I finally got her to pony up for the card, then traded it a week later for a copy of Legendary Wings on the NES. The trade earned me a merciless beating with a large Pacific salmon when I got home. And that's my Mo Vaughn story. (Some elements of the preceding story may have been embellished.)
Mo Vaughn hit a bunch when he played for the Red Sox, but most of them are now looked at with skepticism, seeing as how his name was fairly prominently featured in the Mitchell Report on PEDs in baseball.
Got to say, if you take steroids, and that's the body you end up with, you may want to ask for your money back.
11. Terry Pendleton
Ah, another Cardinal, and another blast from the past taking me back to my youth.
Pendleton didn't really hit his stride at the plate until he left St. Louis to head to Atlanta during the final dark days of Anheuser-Busch ownership of the team, winning an MVP award in 1991 and finishing a runner-up for the prize the next season. Even during his time in St. Louis, though, Pendleton was an outstanding defender, which no one could ever quite figure out. How does a guy who looks so much like a bowling ball have that kind of agility?
Ah, John Kruk. Scion of cheap beer swilling neanderthals everywhere, not to mention the most Eastbound & Down of any player on this list. (That's right, Eastbound & Down can be used as an adjective. Webster's says so. Look it up.)
Looking at Kruk's career numbers, it's rather startling to see his home run total. In 1,200 major league baseball games, Kruk hit 100 home runs. As a first baseman. His highest total ever for a season was 21 in 1991. The game has clearly changed a bit since those days, it seems.
Kruk also merits inclusion in a list of worst mullets to ever grace the ballpark. He was, in short, a true specimen.
David Wells once threw a perfect game with a hangover, and he played with gout. Those are the most important facts I know about David Wells. So, you know, just because you're a binge drinker or have a Medieval ailment associated with consuming too much meat and alcohol doesn't mean you can't be a successful big leaguer. Reach for the stars, kids!
He also pitched for every team under the sun, some of them a couple times, and was pretty damned good for most of his career, too. Oh, and he looked like the kind of guy whose palm would always be damp when he shook your hand, and you would never be able to figure out why.
8 & 7. The Fielders
The father and son are a packaged deal. It just has to be that way.Prince Fielder is a much, much better player than his father ever was, a bona fide star slugger in an era full of them. Cecil had the long strange trip style career, playing in Japan before coming back to America and hitting a ton of home runs over a brief period of time. Never a great hitter, but sweet Jesus could he hit the ball a long way when he connected. Sort of John Daly kind of thing, you know? Must be something about fat dudes that makes them want to swing for the fences.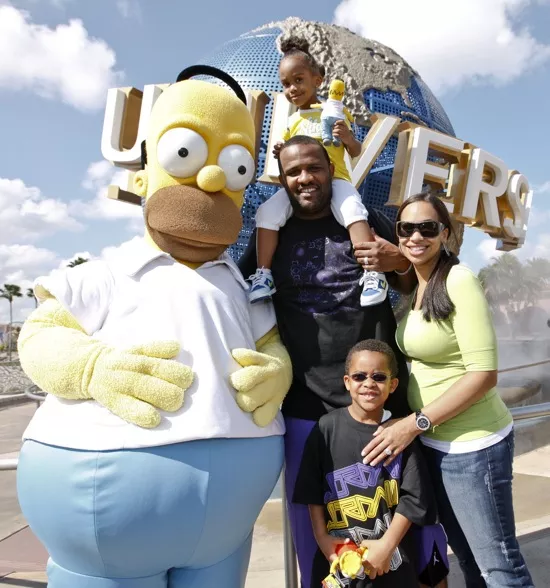 (He's the one in the middle, not the yellow one.)
He's one of the better pitchers of the past decade, and he is an enormous human being. He's won a Cy Young award, is probably the best bet of any current pitcher to actually reach the magical 300 win mark in his career, and, again, that's a big sumbitch. Just saying.
Remember when Miguel Cabrera came up with the Florida Marlins, back during one of those runs they used to make before selling the team for scrap? That Miguel Cabrera was a skinny Venezuelan kid who could wallop the holy hell out of the ball.
Now, a decade later, Cabrera might be the best hitter in the game, having just won the first triple crown since the '60s, and the skinny Venezuelan kid is long gone. He still has the baby face, but that's just because it's so round nowadays.
The bad news? There's an entire town in China that has to relocate ever few days in order to balance out the Prince Fielder/Cabrera infield combination in Detroit, like that scene in Speed where Keanu had everyone go to one side of the bus so it would tip over making a turn.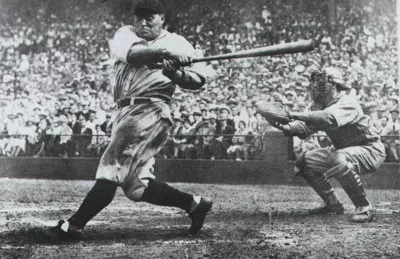 Baseball's all-time single season RBI king, Hack Wilson was a born slugger in an era when that usually meant a boxer, not a baseballer. (Also, baseballer was a word.) He was also a notorious boozehound and gadabout (old timey words are awesome), and basically drank his career away.
Still, the 1930 season of Hack Wilson stands even today as one of the most ridiculous ever put together by a major league apple-hurler. (Okay, that one's a bit much, I admit. And really only works for pitchers anyway.) Fifty-six home runs, 191 runs batted in, a .356 batting average, and a 1.177 OPS. You want the definition of video game numbers? That's it right there.
3. Kirby Puckett
Everybody loves Kirby Puckett. Built even more like a bowling ball than Terry Pendleton, Puckett was nonetheless one of the most complete players of his day, and one of the best personalities the game has ever seen.
We only heard about the dark side of Puckett -- the violence and sexual harassment -- as his life away from the field spiraled out of control. But the enduring on-field legacy is hard to deny. And he did it all with a body that may, according to anonymous sources which I just made up, have served as the inspiration for another famous and beloved Kirby: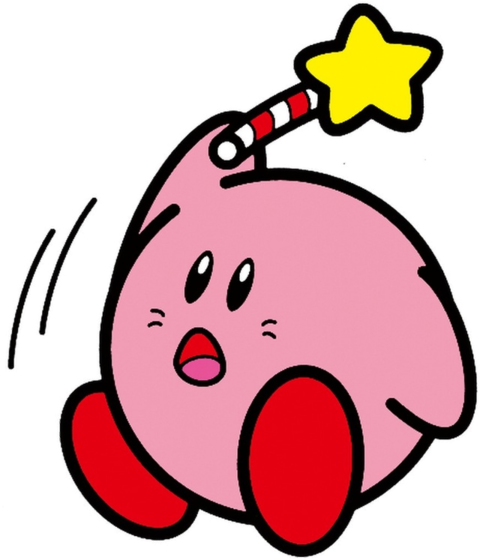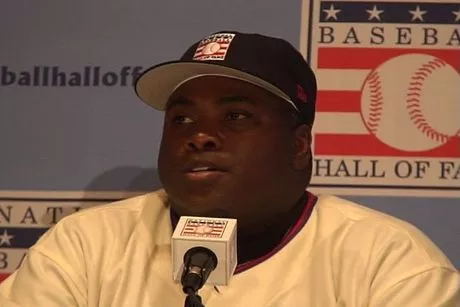 Tony Gwynn was a hell of a hitter. He's apparently a pretty damned good coach, as well, as his San Diego State Aztecs are consistently one of the better teams in college baseball. Oh, and he's not the most svelte individual, either.
Every player on this list could serve as an inspiration in one way or another, I suppose, whether it's Kruk proving you can be functionally illiterate and look like an extra in a monster truck rally commercial and still be successful or David Wells overcoming the horrors of, um, gout (seriously? gout.), en route to glory. But Gwynn, he takes that to a whole other level.
Tony Gwynn was heavy. He didn't run all that well. He didn't have much in the way of power, and his fielding wasn't particularly remarkable. And yet, he's in the Hall of Fame, because the man was an artist with a bat in his hand. What Greg Maddux was to pitching, Tony Gwynn was to hitting.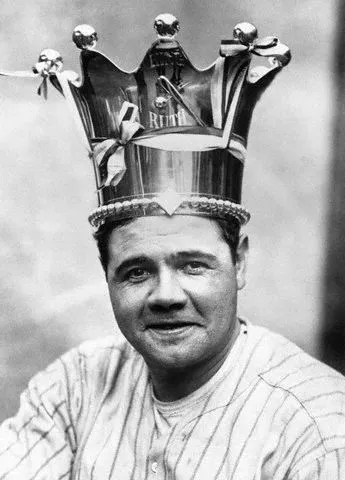 You had to know who number one was, right?
He's the best who ever played the game, period. He hit more runs by himself than entire teams did several years. He was one of the best left-handed pitchers of all time before he even became a position player. He's Babe Ruth, and we have a word, Ruthian, for monumental feats in baseball. When you get your own adjective, you top lists like this.
He was also a really fat guy in an era when being fat took effort. Seriously, have you ever seen what people in the Depression ate? We have four-bean stews today; in the 1930s they had stews with four beans total. You had to work to look like Babe Ruth in those days.
Amazingly enough, Ruth might have been even fatter than we realize; after all, he was generally photographed in his uniform, and vertical stripes are very slimming. He may very well have played most of his career north of 400 pounds and we just don't know it because he was always wearing pinstripes.
So remember, fat kid who's always getting picked last to play kickball or made a goalie or catcher because you can block a bunch of space, there's no reason you can't grow up to be a professional athlete. And a baker's dozen of reasons you totally can.
That being said, maybe go easy on the doughnuts, okay?