Theo R. Welling
Slay, Matthews and Reed
The day is here. Voters will effectively choose the next mayor of the City of St. Louis in today's Democratic primary race, where incumbent Francis Slay, vying for an unprecedented fourth term, will face off against challenger Lewis Reed, president of the Board of Aldermen, and Jimmie Matthews, the underdog former alderman running without campaign donations.
It's been a bumpy ride with new headline-grabbing controversies each week -- scandals and negative press aggressively promoted behind the scenes by operatives working seven days a week to secure the seat for their candidates. From accusations of racism, to criticisms of racist accusations to allegations that the opponent is just trying to distract from the previous accusations, it has, at times, been difficult to keep up.
Check out our recap below of the top ten controversial campaign fights that got the most attention this election season in St. Louis.
10. Francis Slay Targeting Lewis Reed's Wife?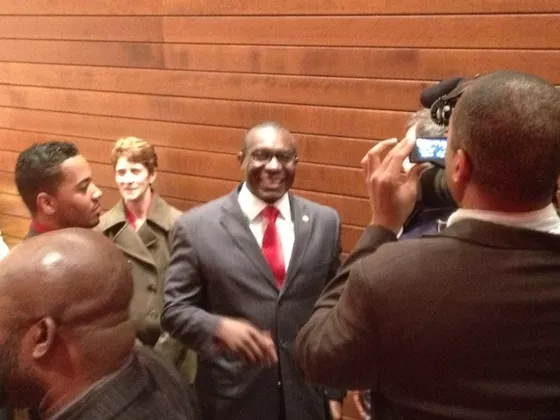 Sam Levin
Lewis Reed
Did the mayor purposefully reduce the hours of his opponent's wife as a political attack? Depends on who you ask. Reed told us that Slay intentionally cut the working hours of his wife Mary Entrup, a housing court judge, in retaliation because Reed decided to challenge him.
But Slay's staff said it was a budget decision tied to rising pension costs.
Did Entrup stay on the job?
Full Story: Lewis Reed v. Francis Slay: Did the Mayor Attack his Opponent by Reducing Wife's Hours?
9. "Mayor's Senior Staffers Lie to the Public"
After accusing the mayor of illegal "pay-to-play" schemes -- in which Slay was allegedly using public resources for campaign activities -- the Lewis Reed camp tried to keep the negative attention alive with a second press release. This one was a response to the mayor's response -- which, according to Reed, was filled with lies.
Slay's team, however, said there was no lying whatsoever. Who to believe?
Full Story: Lewis Reed V. Francis Slay: Attacks In Mayor's Race Reach New Level With Lying Charges
Continue for more campaign controversies.
8. "Violence in Reed's camp Yesterday!!!"
So said the late-night tweet from State Senator Jamilah Nasheed, a vocal surrogate for Slay this election season.
Her tweet was apparently in response to some scuffle at a Lewis Reed fundraiser -- involving, it seems, no one actually directly related to either campaign.
Daily RFT's further investigation uncovered that someone was shoved -- maybe.
Full Story: Lewis Reed: Police Called to Fundraising Event After Dispute Escalates
7. The Grim Reaper of Radio Bob Romanik
Controversial radio host Bob Romanik, an RFT cover feature subject, inserted himself into the mayor's race by donating a lot of money to Lewis Reed. That move was important to the president of the Board of Aldermen, who has been at a fundraising disadvantage throughout the race -- and was also significant to Slay's team, who ended up highlighting his donations in a campaign attack ad.
Why? For starters, Romanik is a convicted felon.
Full Story: Lewis Reed: "Grim Reaper of Radio" Bob Romanik Top Donor To Francis Slay Opponent
Continue for more campaign controversies.
6. Donations From...New Orleans?
Lewis Reed's opponents did not only attack him for accepting cash from a convicted felon. The Slay team was also quick to point out that a notable chunk of donations was also coming from out-of-state.
Reed's response? Some of the funders are people who fled St. Louis. (And also, take a look at Slay's Republican donors!)
Full Story: Lewis Reed V. Francis Slay: Mayor's Campaign Attacks Challenger For Out-of-State Donations
5. Veolia Water Contract "On Hold"
Lots of hissing and booing at mayoral debates when the topic of the city's controversial water contract with Veolia came up (which also happens to be the subject of a recent RFT cover story).
Reed jumped on accusations that Slay was trying to privatize water operations of the city -- claims which the mayor's office has repeatedly denied. The backlash became great enough, however, that Slay issued a formal announcement stating that the contract was on hold.
Full Story: Veolia Water Contract Officially "On Hold" Says Mayor Francis Slay
Continue for more campaign controversies.
4. Labor Dispute: Most Draconian Policy in St. Louis History?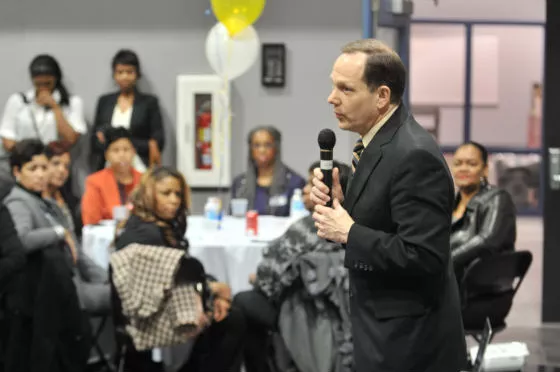 Last month, Lewis Reed and his allies jumped on a leaked document that they said revealed the Slay administration was effectively trying to wipe out the power of unions with an agreement for new employees that waived most of their rights.
Slay's staff, however, said that the accusations were misinformed -- but got rid of the document, anyway.
Full Story: St. Louis Labor Controversy: Is City Forcing New Employees To Sign Anti-Union Agreement?
3. Francis Slay Depicted as Slave Owner
The Slay camp slammed a flyer from a Reed supporter that depicted the mayor as a white slaveowner and his black supporters as slaves. The Reed camp, however, slammed the Slay camp for trying to tie them to a controversial flyer (and film) that they weren't connected with.
The name of the project in question? "Bootlicker."
Full Story: Francis Slay v. Lewis Reed: Slavery Image on "Bootlicker" Film Flyer Sparks Controversy
Continue for more campaign controversies.
This makes the top of our list, in part, because Daily RFT got a healthy dose of negative feedback for our coverage. At the center of this controversy was a bizarre video made by anonymous Slay opponents that depicted the mayor as Hitler -- and then went on to imply that he's gay and has inappropriate thoughts about his male chief of staff.
Some Reed supporters thought it was comical and shared it around. We wrote about it. Reed personally condemned it. It was removed from YouTube.
Full Story: Francis Slay: Hitler Video Meme (That Implies Mayor is Gay) Promoted By Lewis Reed Backers
1. Just Vote for Jimmie Matthews
Sam Levin
Jimmie Matthews.
This controversy from yesterday might be our favorite Lewis Reed v. Francis Slay fight -- because it involves the much-ignored third candidate Jimmie Matthews.
Attacks began yesterday after State Senator Jamilah Nasheed wrote on Facebook: "If you don't like Slay because he is white-vote for [Jimmie] Matthews because Reed is no different than Slay!"
The significance? According to the Reed camp, the post was proof that Matthews is a so-called stalking horse candidate planted to siphon black votes away from Reed. Slay's campaign, however, said it was offensive to assume that if there are two black candidates, one must be a fake. Matthews, on the other hand, says he's in it to win it.
Full Story: Jamilah Nasheed for Francis Slay: Vote Jimmie Matthews if You Don't Like the White Mayor
Send feedback and tips to the author. Follow Sam Levin on Twitter at @SamTLevin.