Tomorrow is the primary election for mayor of St. Louis -- and the campaigns of the two frontrunners are falling apart. At least that seems to be the message of both the Lewis Reed and Francis Slay campaigns, who are today fighting about a Facebook post from State Senator Jamilah Nasheed.
Nasheed, a vocal surrogate for Slay's re-election bid, posted on Facebook: "If you don't like Slay because he is white-vote for [Jimmie] Matthews because Reed is no different than Slay!" Nasheed was referring to the third Democratic candidate who has not accepted campaign donations and who some have argued is a so-called "stalking horse" in the race -- there to take away black votes from Reed as a boost to Slay.
"Make no mistake about it -- this is not about no stalking horse," Nasheed tells Daily RFT in a follow-up interview. "I don't believe Jimmie Matthews will get three votes."
What do the Reed and Slay camps think?
Here's a screengrab of the Facebook post, sent to us by a Reed staffer:

The Reed camp says the comment is proof that the Slay campaign is promoting the third candidate in hopes that he will take votes away from Reed, president of the Board of Aldermen (a claim which Slay's team says is absurd; see response below).
"They're just desperate," Glenn Burleigh, campaign manager for Reed, tells Daily RFT. "The number one rule of the stalking horse candidate...is you don't talk about the stalking horse candidate."
He says, "From a campaigner standpoint...Slay's messaging machine is just in complete disarray.... None of it is coherent anymore."
Sam Levin
Jimmie Matthews speaks as Francis Slay and Lewis Reed listen at a debate in January.
And he adds of Nasheed's comment, "The Slay campaign has been playing the race card in this from day one.... This is just a huge misstep. This is the kind of thing that only happens when people are desperate and making moves without thinking."
Tom Shepard, Reed's chief of staff -- who originally sent us the Facebook post -- adds: "It's quite clear and quite evident that this is the Slay political operation."
Continue for response from the Slay campaign and from Jamilah Nasheed.
Richard Callow, campaign manager for Slay, dismisses the accusations -- and says that the Reed camp should be focused on challenging the incumbent at this stage in the race.
He says, "It just seems to me that it is probably insulting to assume when there are two black candidates that one of them must be a stalking horse."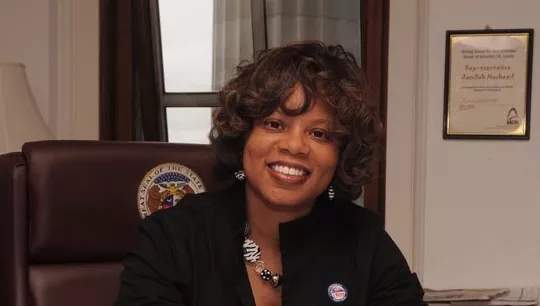 State Senator Jamilah Nasheed
Matthews, who we recently interviewed for a post published this morning, has repeatedly pushed back against the stalking horse allegations; in a debate last week, Reed and Matthews argued back and forth about this very accusation.
What does Nasheed have to say about the latest spat sparked by her comment?
She argues that Reed is very aligned with Slay, and that if voters really hate Slay, they should just vote for Matthews. She is referencing a central attack point against Reed, that he never distinguished himself from Slay in any substantial way -- until he decided to challenge him.
"All those things they accuse Slay of, Reed can be accused of the same thing," Nasheed says. "Over 90 percent of the time, he was with the mayor [on the Board of Aldermen]."
She says, "If you're mad at Slay, then you have to be mad at this guy."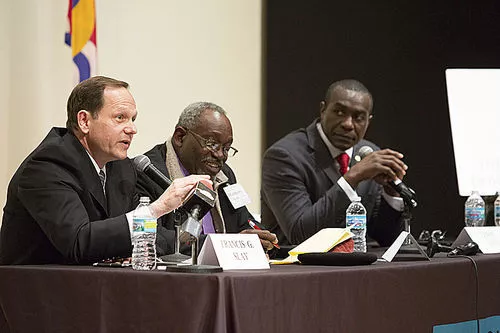 Photo by Theo R. Welling
Slay, Matthews and Reed
Nasheed adds, "If you don't like the white man...the next best thing will be Jimmie Matthews, because he's never done any of those things."
Burleigh fires back: "Lewis Reed is by far the more progressive candidate. No question about that."
Send feedback and tips to the author. Follow Sam Levin on Twitter at @SamTLevin.