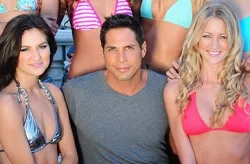 www.meetjoefrancis.com
Joe Francis
The parent company of porn proprietor Joe Francis's "Girls Gone Wild" franchise has declared bankruptcy in federal court in California. GGW Brands LLC has assets of less than $50,000 and owes creditors more than $16 million, according to court documents filed this week.
What that means for Tamarra Favazza, a St. Louis woman who won a $5.7 million judgment against Francis last summer is unclear. Though it will likely make it even more difficult to collect the sum. Last year, Favazza complained in federal court in St. Louis that Francis was hiding his assets to avoid the paying the judgment.
In the federal complaint filed last June, Favazza's attorneys argue that Francis has created multiple alter egos and shell companies in an attempt to fraudulently transfer assets and evade creditors. What's more, they say Francis is loaded and not the pauper he claims to be. Among his assets hidden away, says Favazza's lawyers, are:
a $2 million jet that seats 22 people
a $10 million house in Bel Air, California
a $30 million beachfront mansion in Punta Mita, Mexico
one or more vehicles valued at more than $100,000
Continue for details on Favazza's surprise appearance in a GGW film.
Favazza in a clip from Sorority Girl Orgy
Favazza was twenty years old in 2004 when she and several friends were at the former Rum Jungle on Laclede's Landing during a filming of Girls Gone Wild. Favazza was posing for the cameras when a female contractor with Girls Gone Wild pulled down her shirt revealing her breasts. The snippet later appeared in the film Girls Gone Wild: Sorority Girls Orgy.
Favazza learned she was in the film years later when one of her husband's friend identified her. In 2010 St. Louis jury originally ruled in favor of Girls Gone Wild, finding that Favazza was playing for the camera before her top was pulled off. (Read a blow-by-blow account of the Favazza's appearance in the film.) But a judge threw out the jury's verdict and re-tried the case, awarding Favazza $5.7 million last spring.
Favazza's attorneys, John and Jeffery Medeler, did not return Daily RFT's calls for comment yesterday.
Favazza is listed as the second-biggest creditor in the GGW Brands bankruptcy. Casino mogul Steve Wynn is the largest -- owed more than $10 million. Last year Wynn won a $7.5 million defamation suit against Francis, who'd claimed that Wynn cheated gamblers. At the time, Francis owed Wynn Las Vegas LLC $2 million in gambling losses. He owes Wynn Las Vegas $10.3 million.
Continue on to view GGW's bankruptcy filing and Favazza's federal lawsuit accusing Francis of hiding his assets.
Joe Francis/Girls Gone Wild bankruptcy