Last month, cycling advocates across Missouri began spreading the word about a possible "bicycle ban" bill that Republican lawmakers would be promoting this legislative session -- in hopes of squashing it before it was even introduced.
Despite the preemptive push-back, Representative Bart Korman, of High Hill, introduced the legislation last week, which would prohibit cyclists from riding on certain state roads.
"I do not want to ban little Johnny from riding his bike to school," Korman tells Daily RFT, arguing that some of the backlash is misunderstood. "I want to avoid someone getting hit or killed."
How would his bill impact cyclists?
House Bill 672, officially introduced last week -- though advocates leaked a version a week earlier -- would change the law to prohibit "bicycle operation on state roadways when there is a state bicycle path or trail running generally parallel and within two miles of a roadway, with an exception for certain bicycle travel."
That "exception" part is key, Korman says. The language of the bill, full version on view below, says the ban would apply to those state roads near parallel bike paths or trails:
except a bicycle may operate on the shoulder of a state roadway when the bicycle is operated as a means to ride to or from the operator's home to another residence, to a place of business, to a school, or to any public facility.
In other words, if the cyclist needs to be on that state road to get to a specific place on that road, then it wouldn't be a violation.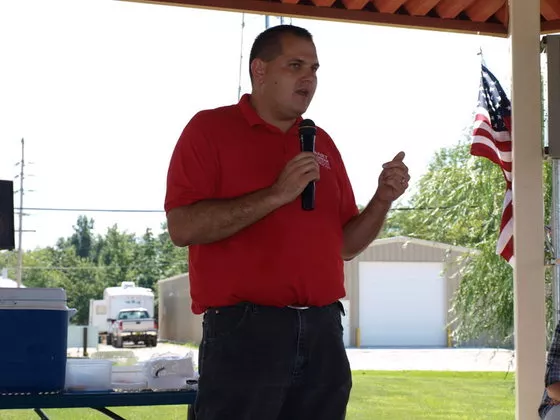 via Facebook
Representative Bart Korman
"The purpose of the bill is to encourage people to use the bicycle trails that are for the bicycles and pedestrians and not for motor vehicles," he explains, "to relieve some congestion."
Continue for more of our interview with Bart Korman and response from bike advocates.
Korman says there is a lot of resentment in his district around the creation of bike trails and paths that, according to constituents who complain to him, aren't being used all that much.
"There were tensions to begin with," he says regarding the implementation of bike paths and related property disputes. "It really aggravates those folks when they see them riding their bicycles on roads and not using the trails that they fought against for so long."
So he hopes his legislation would increase usage of built bike paths -- which he argues is the safer choice.
Cycling advocates, however, say that it's not the place of government to restrict an important mode of transportation just because cars may feel inconvenienced.
"It's very, very damaging to all the bike [pedestrian] work that has been done across the state in the last ten to twenty years," says Annette Triplett, executive director of PedNet Coalition, a Columbia-based transportation nonprofit. "Legislation like this that is such a broad sweeping ban would be extremely damaging to all the progress we've made."
She also argues that debates around a specific rural highway should not influence a statewide policy that restricts cyclists.
But Korman says it can be incredible dangerous when cyclists and drivers share the road. "That's just the laws of physics," he says of potential collisions between large vehicles and bikes.
"It's not only devastating to a cyclist getting hit," he says. "It's also devastating to a motorist that hits the cyclist. It happens too often.... A lot of bicycles are out there and sometimes they get hit and injured. It's very impacting to the family of the cyclist...and very impacting for the motorist."
Korman says he has heard enough complaints from constituents.
"Finally, I just tried to look at a legislative way to help resolve the issue," he says.
Here's the full draft.
Send feedback and tips to the author. Follow Sam Levin on Twitter at @SamTLevin.