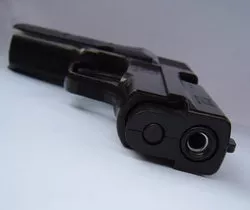 We reported last week that State Senator Maria Chappelle-Nadal, a University City Democrat, is continuing her push to mandate that parents notify schools if they own guns. That proposal is facing strong opposition -- and a Republican bill getting attention this week would put in place a virtually opposite law.
The proposal from Republican State Senator Brian Nieves would ban schools from asking students if their parents own guns. The bill also would restrict doctors from reporting gun ownership in medical records -- a component which has already sparked opposition from at least one GOP colleague.
"I cannot think of any reason...that a physician should be denied permission to write in a medical record if it is truthful and something that the physician feels should be there," State Senator Rob Schaaf tells Daily RFT.
What's the goal of the bill?
Nieves didn't return a call from Daily RFT yesterday. We'll update if we hear back.
As written, Senate Bill 266 is pretty simple -- though is somewhat wide-ranging, in that it touches upon both education and medicine. The bill, full version below, says:
This act prohibits health care professionals or health care facilities from intentionally entering any disclosed information concerning firearm ownership into a patient's medical record if the professional knows that such information is not directly related to the patient's immediate medical care or safety.

This act provides that health care professionals and facilities that violate the provision are subject to disciplinary action under the appropriate provisions concerning the licensing, accreditation, or certification of health care professionals and health care facilities by the state of Missouri.

In addition, this act prohibits an employee of a school district or a private or charter school from asking a student under the age of 18 whether such student's parent or guardian, or anyone residing with the student, owns a firearm.
It would seem that the overall intent of the bill is to counter some of the proposals in Missouri and across the country -- catalyzed by the tragic elementary school shooting last year in Connecticut -- to put stricter policies in place around gun access. Missouri already has a handful of proposed legislation this session directly fighting back against gun control.
via Facebook
State Senator Brian Nieves
This bill also appears aimed at protecting the privacy of law-abiding gun owners.
But it goes too far. Or at least that's the take of Schaaf, a Republican senator and aphysician from St. Joseph, who is on the general laws committee of the State Senate, which is debating the proposal.
"Medical records belong to the physician. To deny me the freedom to write whatever I think is appropriate for my patient's well-being in a medical record is outrageous," he says.
Continue for more on the bill and the full draft legislation.
Schaaf's opposition has nothing to do with guns -- and the senator behind the bill might have good intentions, he notes. Still, he argues there's never been a policy like this in Missouri and under no circumstance should doctors face these sorts of restrictions.
"Medical records basically exist to document for the next person coming along so that they can pick up the...record and continue the treatment of the patient," he says. "To say that I can't write something down in a medical record, to me is wrong."
via Facebook
State Senator Rob Schaaf, right
It's unclear exactly how this policy could be enforced, but as written, a violation by a school employee would be punishable as an "infraction," which carries a fine of up to $200. Health care professionals would receive "disciplinary action" related to their licensing.
Here's the draft.
Send feedback and tips to the author. Follow Sam Levin on Twitter at @SamTLevin.